Tag Archives: generative art
In February of 2022 we were commissioned by Vincent Auvray of L'unique Caen to create a nature themed Mural for a public Space in Caen, France. Previous artists include Grégory Chatonsky and Sabrina Ratté.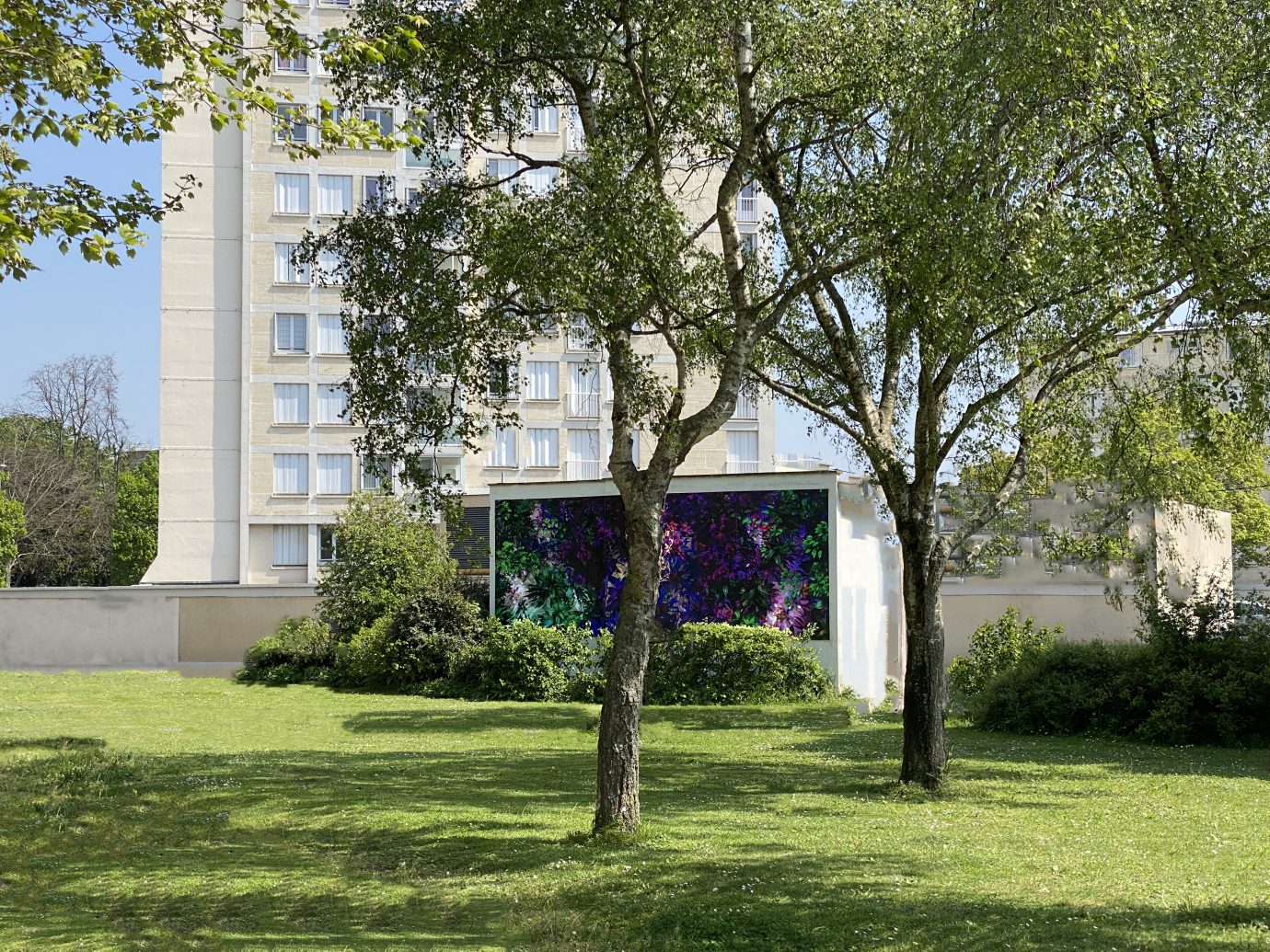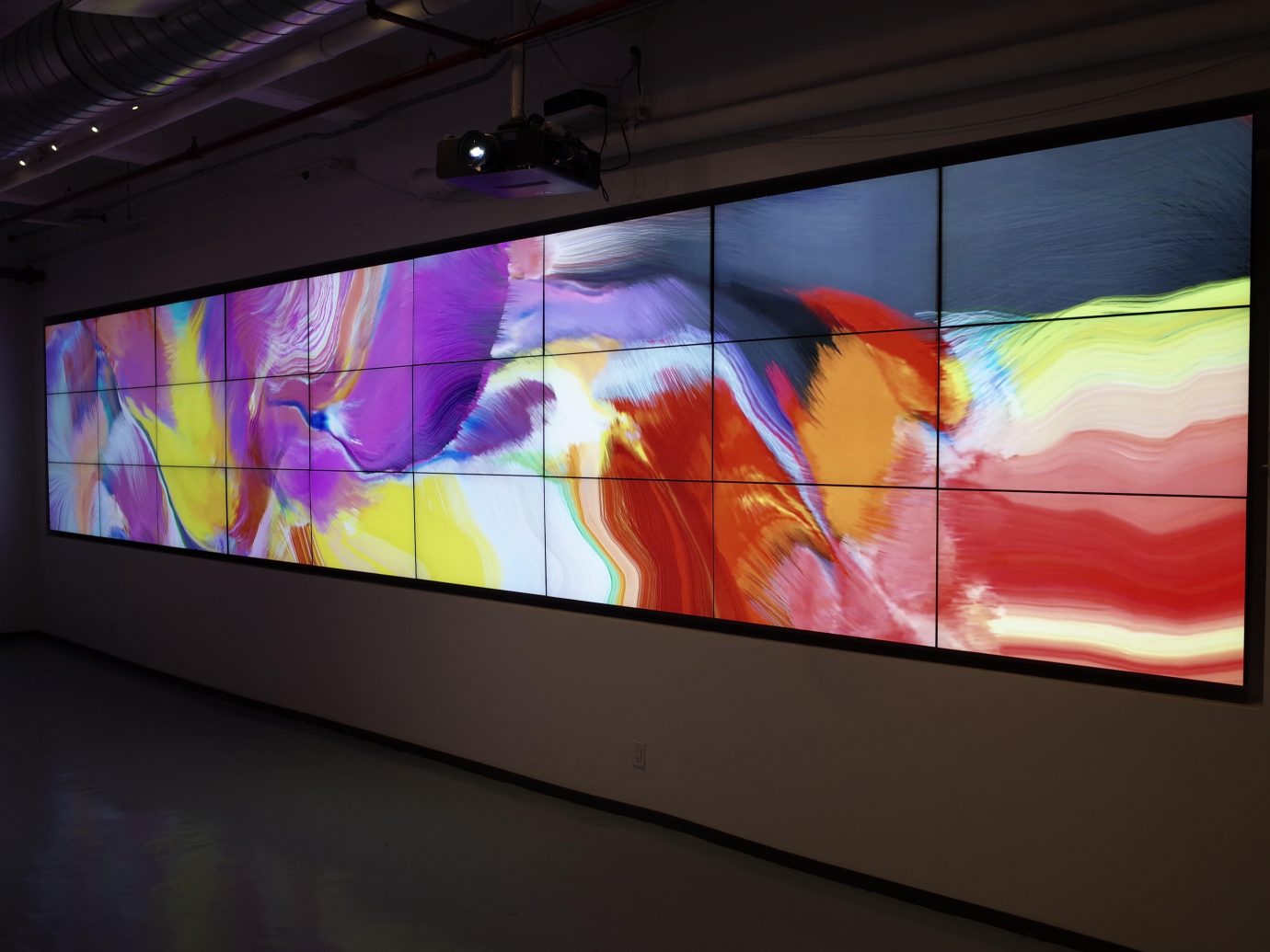 The Made in NY Media Center is proud to present Frame Null Abyss – A Decade of A N F, a new retrospective of work by Andreas Nicolas Fischer.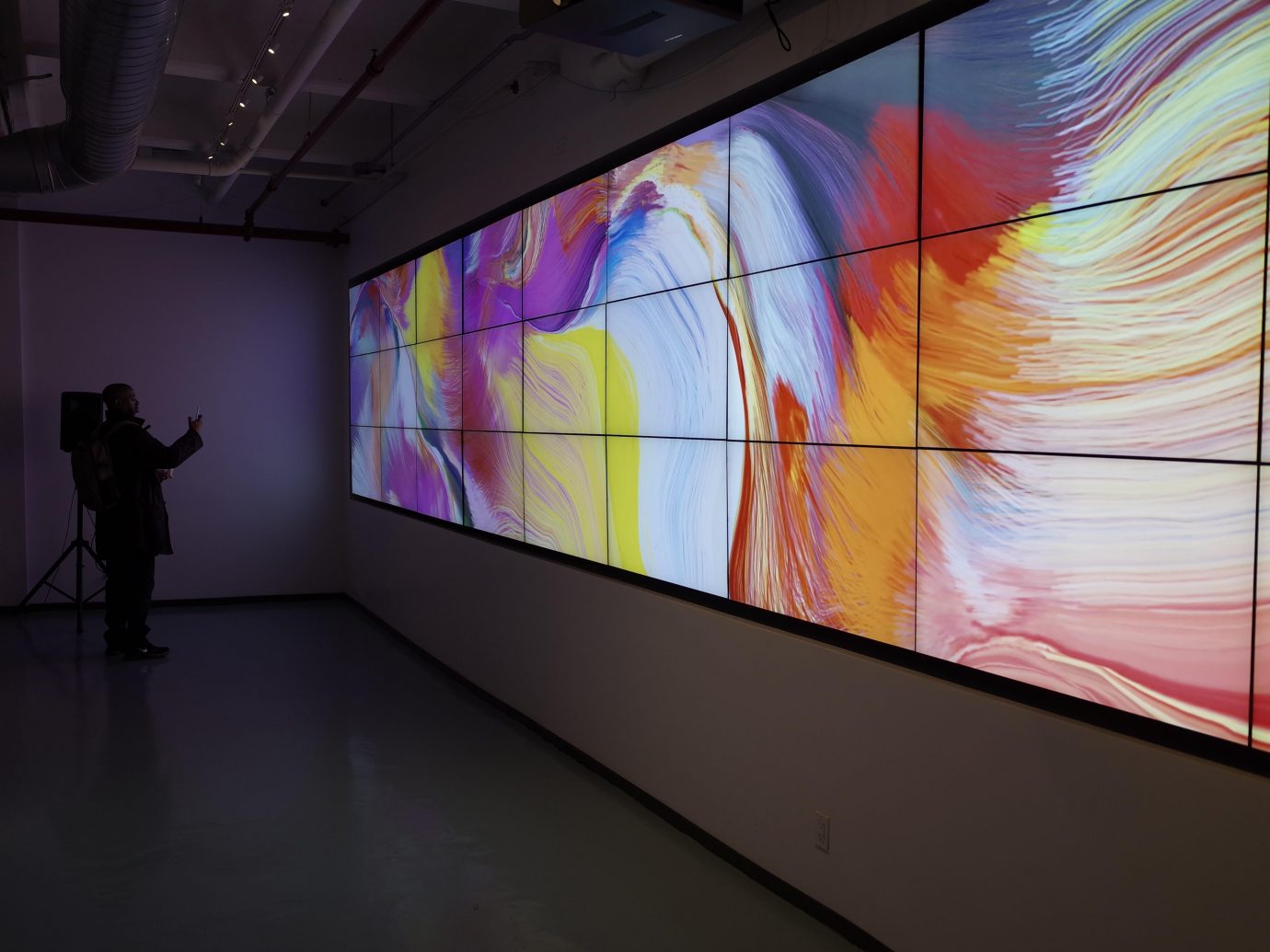 Over the last ten years, Fischer's work has evolved from a place of abstraction into more pointed, guided experiential work with an emphasis on narrative. Early works, such as the Drone series, are overflowing with color and seem to be primarily concerned with technique. Fluid dynamics simulations and particle systems combine to form abstract worlds that coalesce and disperse in response to both sound and the whims of the artist.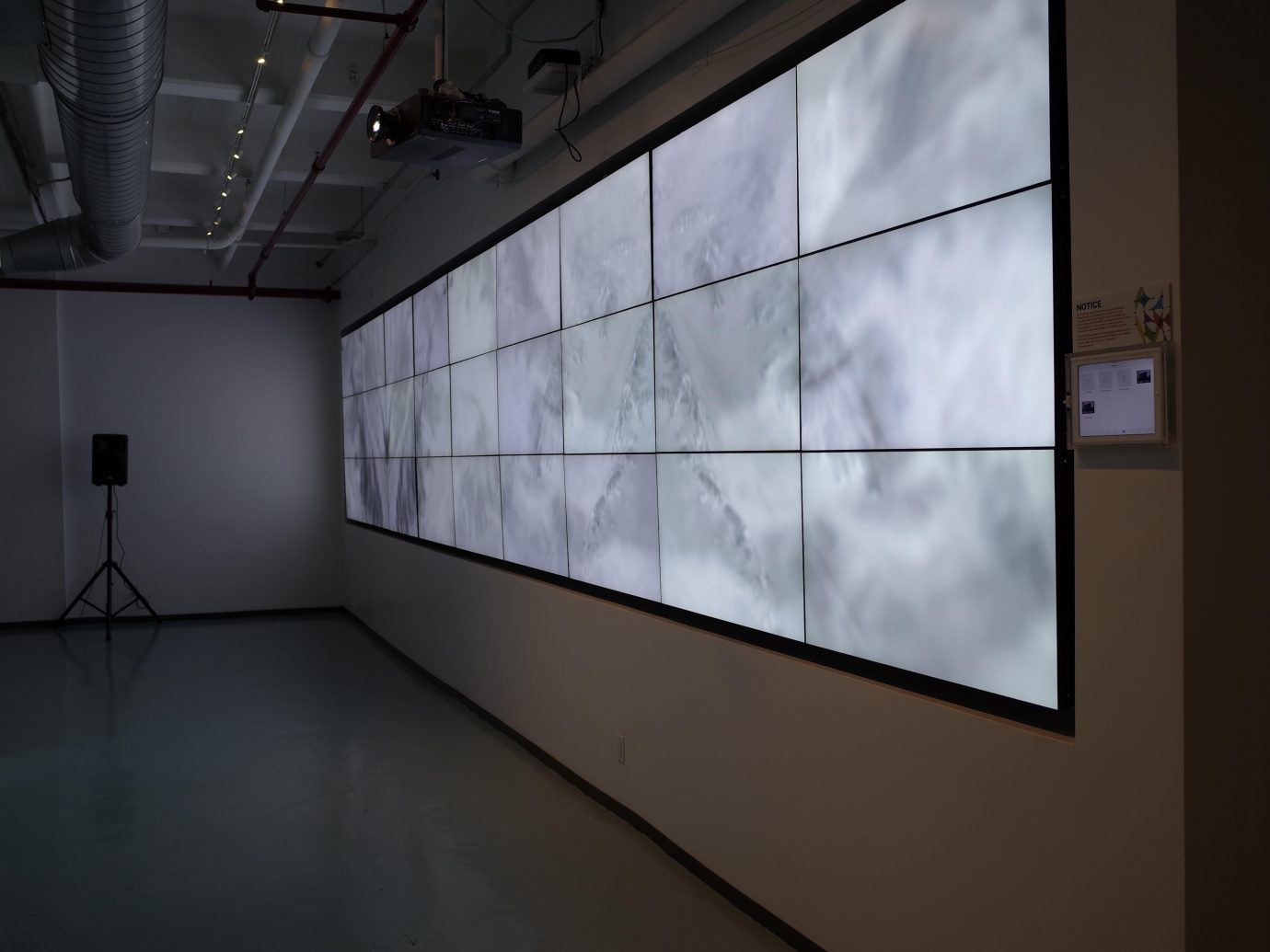 Later works, however, begin to incorporate fears about our relationship with technology, the workings of society, and our increasing unhappiness. While many creative technologists are contemplating and exploring similar themes, Fischer brings innovative visual and structural sensibilities to this familiar discourse. The result is at once visually arresting and philosophically thought-provoking, with horrifying implications.
His Computer Visions series begins ominously with a quote from Karl Marx rendered as white text on a gray background before shifting to a familiar particle system. But that familiarity is quickly discarded as the imagery transforms into lines of expressionless automatons and the text takes on a more subjective, narrative tone, contemplating the nature of what it means to be human and what it means to evolve, before eventually positing that our eventual obsolescence might not be a bad thing.
The second installment of Computer Visions continues to see the artist growing not only his technique but his structural and philosophical leanings, as well. An onyx carcass on a beach gives way to a walk through a desecrated landscape with imagery on disembodied screens as a voice plays psychiatrist and questions the moral and ethical ramifications of fame, wealth, pharmaceuticals, and even our very existence before closing by saying, "remember, I'll always love you."
Throughout this creative evolution, Fischer has maintained a sense of visual playfulness that contrasts nicely with the deep and often dark philosophical questioning that underpins his work. Bright colors and whimsical physics simulations serve to usher the unsuspecting viewer into Fischer's worlds, lulling them into a state of complacency before turning those worlds upside down and inside out with philosophical inquiries and existential dread. But these are not depressing works – they force viewers to confront the most difficult questions human beings have to contemplate and one is left with a sense of advancement, of being changed for the better after having faced our own mortality.
This retrospective collects existing works by Fischer in addition to a new, site-specific generative piece for the Media Center's 360-degree projection.
The show was curated by Thomas Rotenberg. Photography by Chris Woebken.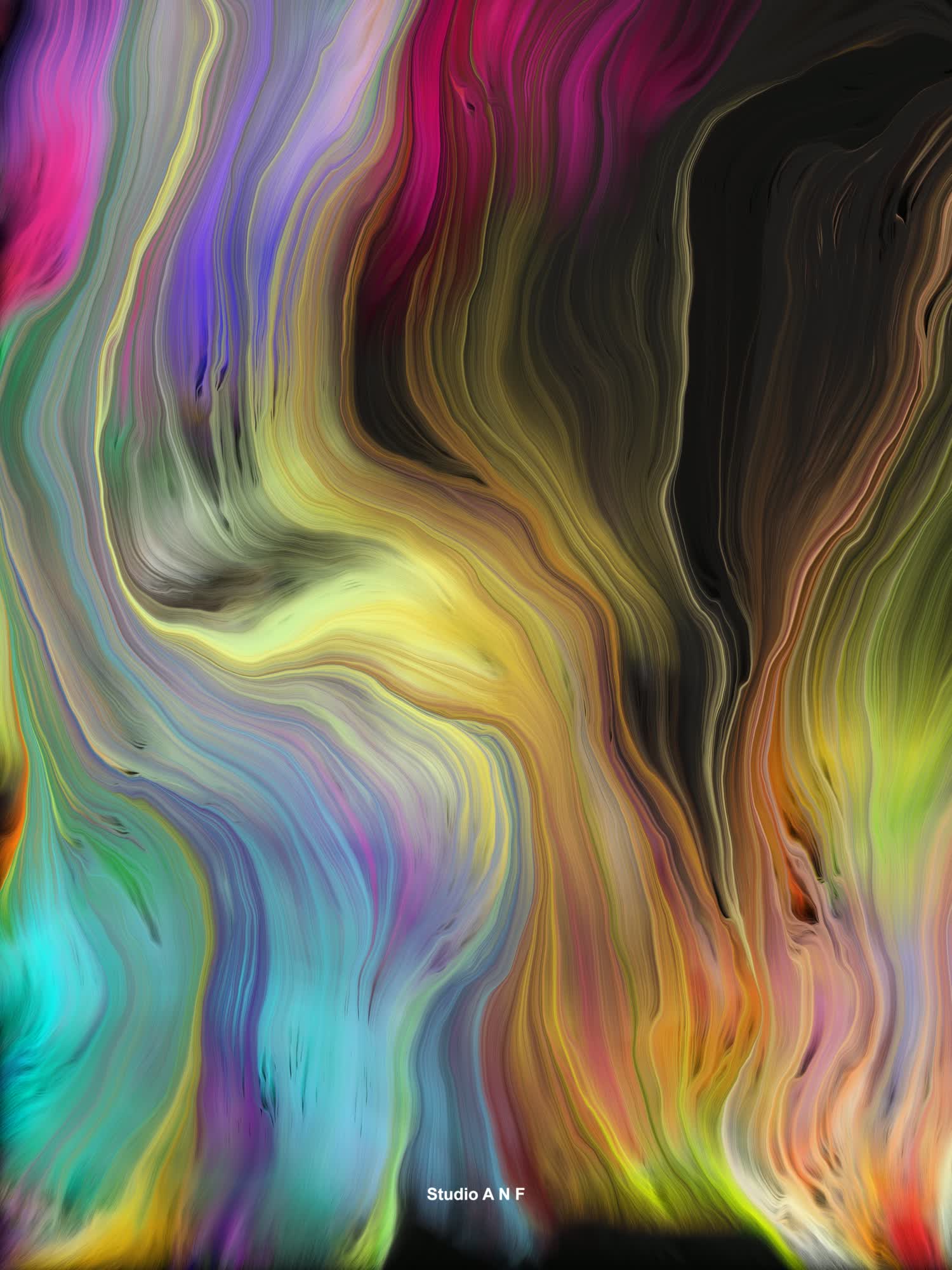 Hyperschwarm is a series of 3 triple channel generative media installations, each consisting of 3 4 minute videos in 4k UHD resolution. Hyperschwarm is an update of the Schwarm series, which uses the same generative system with the difference that the color composition is being generated from within instead of being pre-defined. The colors are re-generated at specific intervals during the execution of the software, shifted in hue over time and faded over the last set that was drawn onto the canvas. The installation is evolving slowly over time, revealing new colors through the particles that flow across the canvas. Each set has 3 different scales at which the points flow across the drawing surface at varying opacities.
Megaschwarm is a series of 3 triple channel generative media installations, each consisting of 3 4 minute videos in 4k UHD resolution. It is an update of the Schwarm series, which uses the same generative system with the difference that the color composition is being generated from within instead of being pre-defined. The colors are re-generated at specific intervals during the execution of the software, shifted in hue over time and faded over the last set that was drawn onto the canvas. The installation is evolving slowly over time, revealing new colors through the particles that flow across the canvas. Each set has 3 different scales and densities at which the points flow across the drawing surface at varying opacities.
Void Vaporwave is a series of ultra-high-resolution digital artworks generated with our custom generative software based on the void series. It is a microgenre of electronic music and an Internet image that developed in the mid-2010s. The style is characterized by its allotment of the 1980s and 1990s state of mind music styles, for example, smooth jazz, lift music, R&B, and parlor music, regularly examining or controlling tracks by means of slashed and screwed strategies and different impacts. Its encompassing subculture is here and there related with an uncertain or humorous interpretation of customer free enterprise and popular culture, and will, in general, be described by a nostalgic or surrealist commitment with the well-known diversion, innovation and publicizing of earlier decades. It additionally joins early Internet symbolism, late 1990s website architecture, glitch craftsmanship, anime, 3D-rendered articles, and cyberpunk tropes in its spread fine art and music recordings.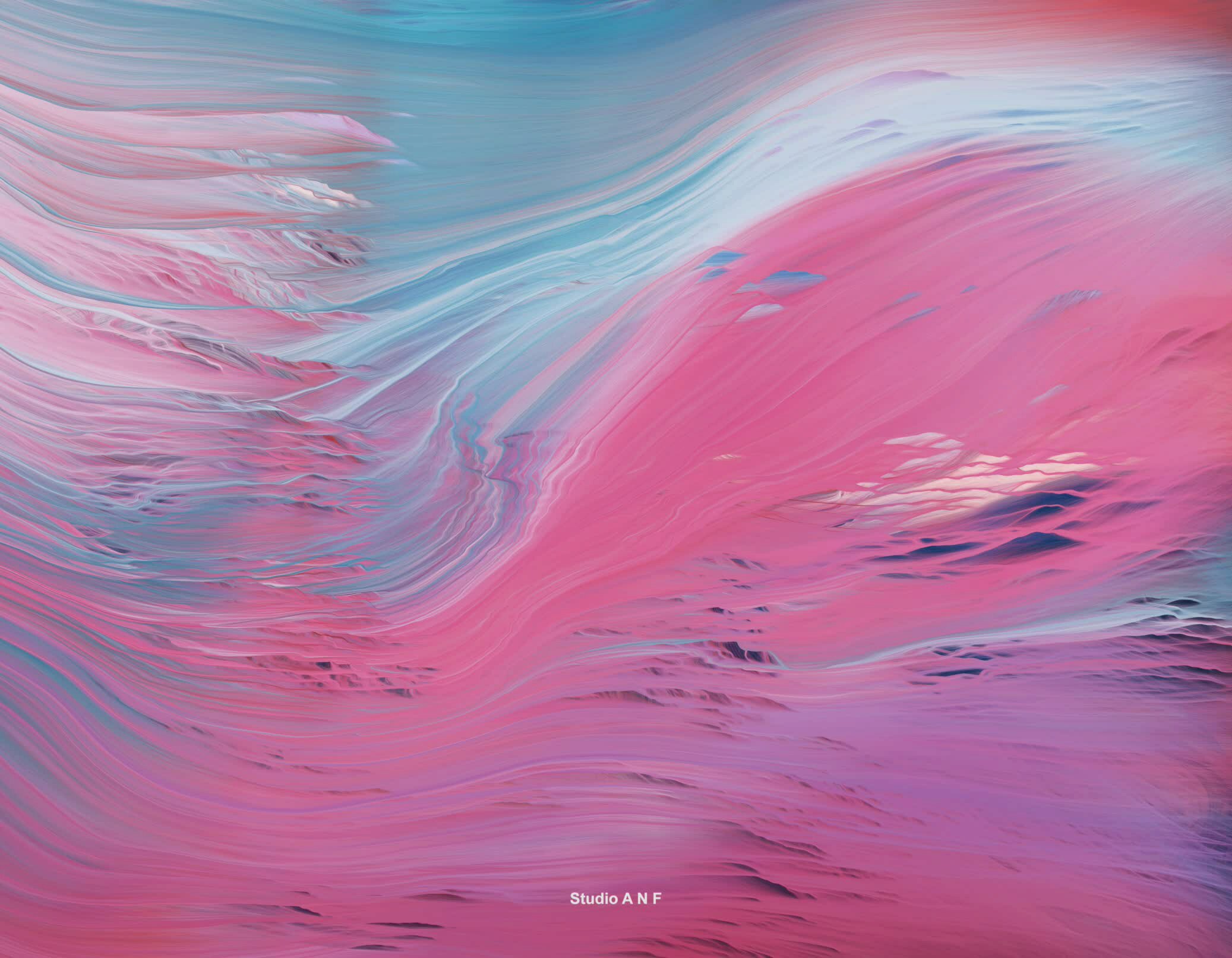 Pitch Festival commissioned a video work for their 2019 festival set outside Ararat in the Grampians, Victoria.
Ten large format high resolution LED screens arranged back to back as 5 totems were installed on-site creating a space for people to move amongst the glowing panels. When approached from a distance towards the main stage the work appears as a single surface.

Nic Hamilton coordinated six other international video artists to make works for the festival to ensure visual arts were represented alongside the broadly international music program. Joe Hamilton, Lucy Benson, Michael Tan, Ezra Miller, Tristan Jalleh and Andreas Nicolas Fischer each made site-specific works displayed across the 4 days of the pitch festival.
Photography by Pat Hamilton
The fine gentlemen at Brig.ht Paris liased this custom video installation programming at Banque LCL in Paris. A curated selection of A N F video and software works was shown.
Hypervoid X is new high-density procedural pop art c-prints based on the void series, which were generated over a period of days with our custom procedural software written in Processing. The colors are chosen to evoke associations to consumer products, neon lighting, and package design, similar to the artists of the 70s and 80s.

Pop art is a development that risen in the United Kingdom and the United States during the mid-to-late-1950s. The development displayed a test to customs of compelling artwork by including symbolism from well known and mass culture, for example, promoting, comic books and everyday social items. One of its points is to utilize pictures of well known (rather than elitist) culture in craftsmanship, accentuating the worn-out or kitschy components of any culture, frequently using irony. It is likewise connected with the specialists' utilization of mechanical methods for multiplication or rendering systems. In pop craftsmanship, the material is now and again outwardly expelled from its known setting, confined, or joined with inconsequential material.

Among the early specialists that formed the pop craftsmanship development were Eduardo Paolozzi and Richard Hamilton in Britain, and Larry Rivers, Robert Rauschenberg and Jasper Johns among others in the United States. Pop art is broadly translated as a response to the then-predominant thoughts of dynamic expressionism, just as a development of those ideas.[4] Due to its use of discovered items and pictures, it is like Dada. Pop art and moderation are viewed as art developments that go before postmodern craftsmanship or are the absolute most punctual instances of postmodern art themselves.

Megavoid is a series of 3 triple channel generative media installations, each consisting of 3 4 minute videos in 4k UHD resolution. It is an extension of the VOID series, which uses the same generative system with the difference that the color composition is being generated from within instead of being pre-defined. The colors are re-generated at specific intervals during the execution of the software, shifted in hue over time and faded over the last set that was drawn onto the canvas. The installation is evolving slowly over time, revealing new colors through the particles that flow across the canvas.

An animated short film about artificial intelligence as psychotherapist and life coach.
Sound design by the talented Mister Kamp
AI voice by Jim D Johnston
Text [below] by Sascha Pohflepp
Many developments in the history of everything have started out as a mimesis of one kind or another. The arm became the lever while the horse became the steam engine and the mind became the computing machine. At some moment then typically comes a sort of inflection point at which the mimic surpasses its model: suddenly, there were hundreds of horses in the space of one. Often, this leads to other effects, ones much less obvious, unintended and almost impossible to foresee. Those horses, history tells us, facilitated a fundamental change in the urban landscape of North America; a change that came with a universe of social, ecological and economic transformations, not all of them for the better.
Cognitive technologies are likely to follow a similar pattern, although their mode of mimicry is much less linear. Consequently, inflection points may differ: instead of being an analog of our own thinking apparatus, they started off as apparatuses of logic. Running mechanically at first, such as the Antikythera mechanism, Charles Babbage's difference engine or Gottfried Wilhelm Leibniz's stepped reckoner, those machines could perform as many simple calculations as mechanical resistance (the arm) would allow for. The rise of electrical power and the vast paradigm shift it initiated then changed the mode of resistance into one of scale and integration: logical formations, materialized into ever-shrinking circuits, now powered by an invisible force at the speed of light. A sense of inflection followed: what if our souls fundamentally work the same way? But it turned out to be a mirage: our brains are not digital computers, just as little as the steam engine is a horse.
After more decades of trying to construct an apparatus that can think, we may be finally witnessing the fruits of those efforts: machines that know. That is to say, not only machines that can measure and look up information, but ones that seem to have a qualitative understanding of the world. A neural network trained on faces does not only know what a human face looks like, it has a sense of what a face is. Although the algorithms that produce such para-neuronal formations are relatively simple, we do not fully understand how they work. A variety of research labs have also been successfully training such nets on functional magnetic resonance imaging (fMRI) scans of living brains, enabling them to effectively extract images, concepts, thoughts from a person's mind. This is where the inflection likely happens, as a double one: a technology whose workings are not well understood, qualitatively analyzing an equally unclear natural formation with a degree of success.
Andreas N. Fischer's work Computer Visions II seems to be waiting just beyond this cusp, where two kinds of knowing beings meet in a psychotherapeutic session of sorts, consistent with the ideas that Joseph Weizenbaum first raised half a century ago with his software ELIZA. Yet, in Fischer's interpretation, this relationship presents itself as a peculiar clash of surreal images and a voice tending to the very human. It is perhaps no coincidence then, that some of the images, particularly the carcass of an animal, are reminiscent of Werner Herzog's 1971 film Fata Morgana, which depicts the Sahara and Sahel deserts to the sound of Lotte Eisner's voice reciting the Mayan creation myth.
Like Herzog, Fischer created the images first and the voice-over followed after, almost in an effort to decode them and with them offer an experimental analysis of a future to come. Herzog's film, after all, was initially intended as a science fiction narrative and only later turned into an exegesis of the origin of the world. In both films, the images serve as surreal divining rods to explore the nature of dreams and visions. "What kind of life is it?" asks the therapist. We do not hear the answer, but perhaps we have not heard the question right either: in a time of talk, simultaneously, of both the Anthropocene and the possibility of a posthuman condition, should the question not rather be what the dreams are, at their base of bases? And would it not be only fitting if—after passing the epochal inflection point of a machine that truly knows—its first words would be: "hi there, do you want me play back some of your dreams for you?"
Sascha Pohflepp, September 2017

KARST II 01; C-print 160 × 120 cm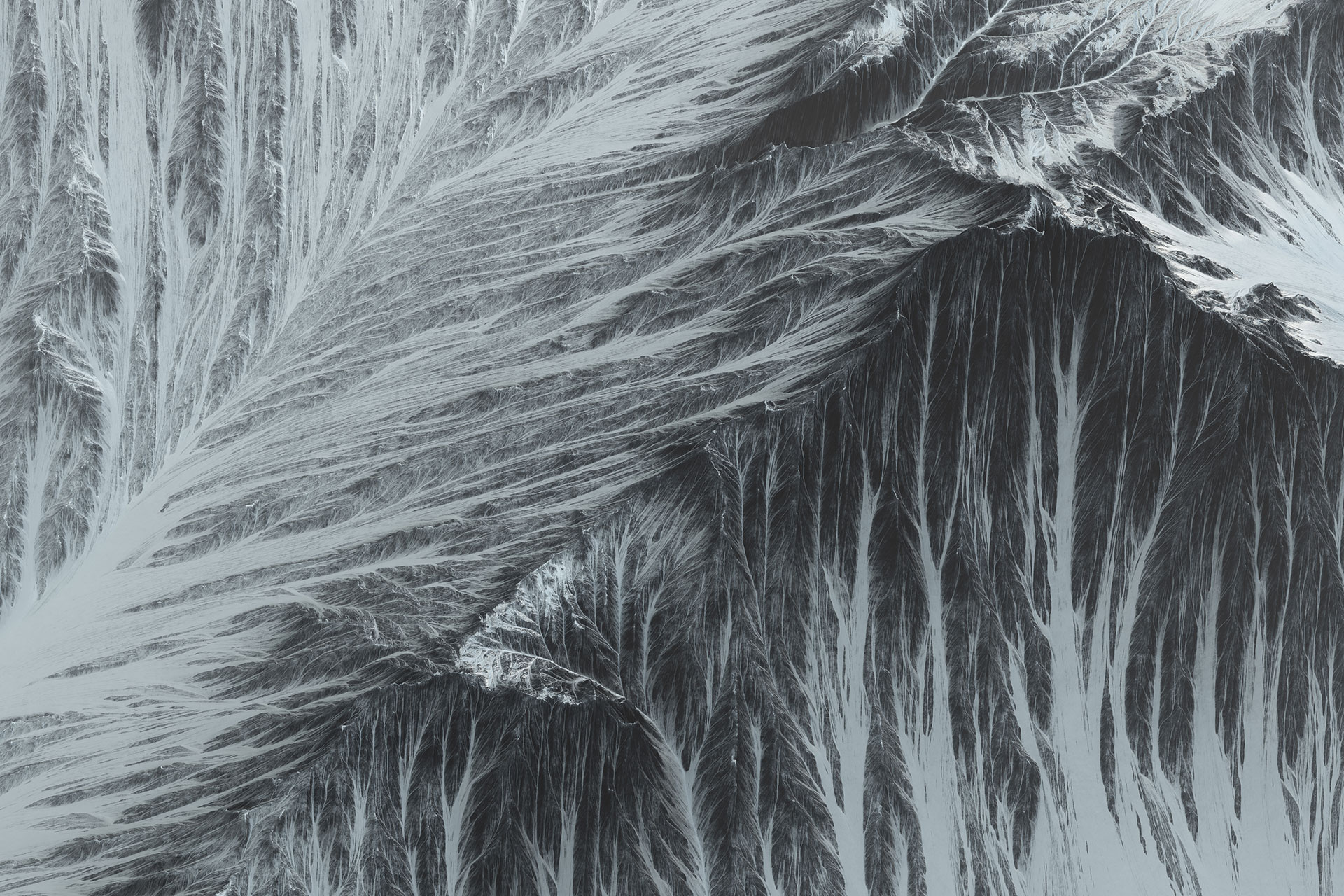 KARST II 01; Detail 01

KARST II 01; Detail 02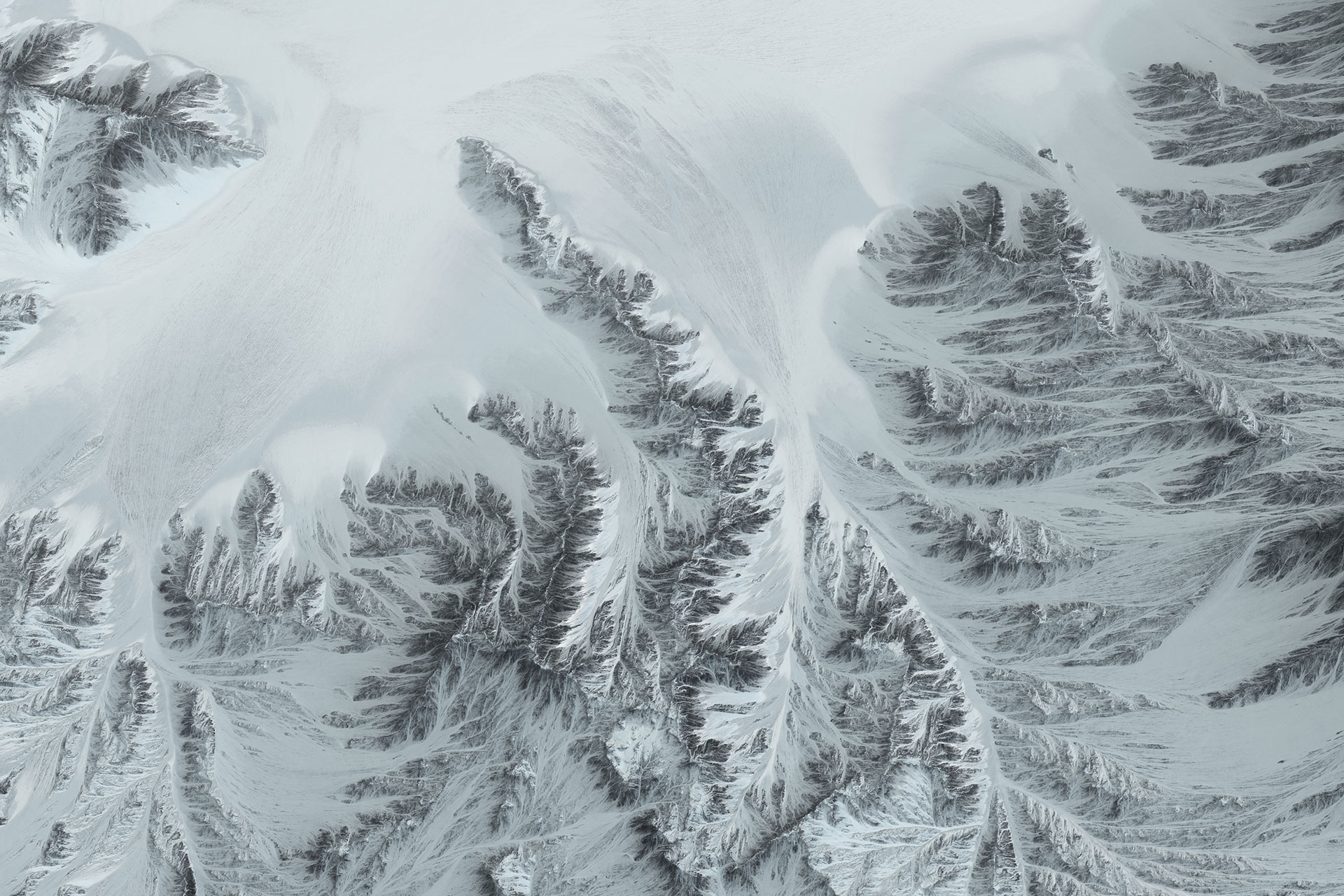 KARST II 01; Detail 03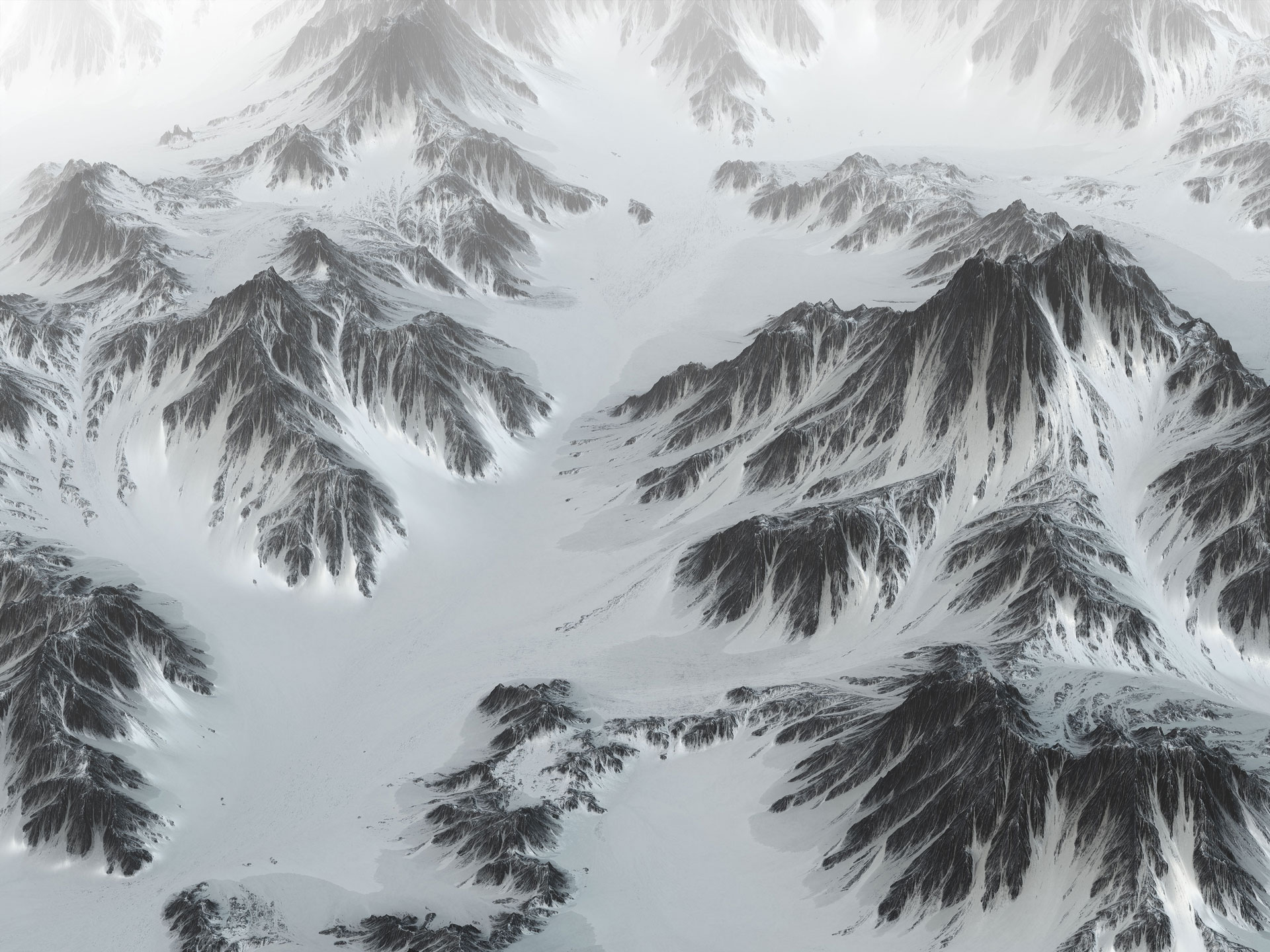 KARST II 02; C-print 160 × 120 cm

KARST II 02; Detail 01

KARST II 02; Detail 02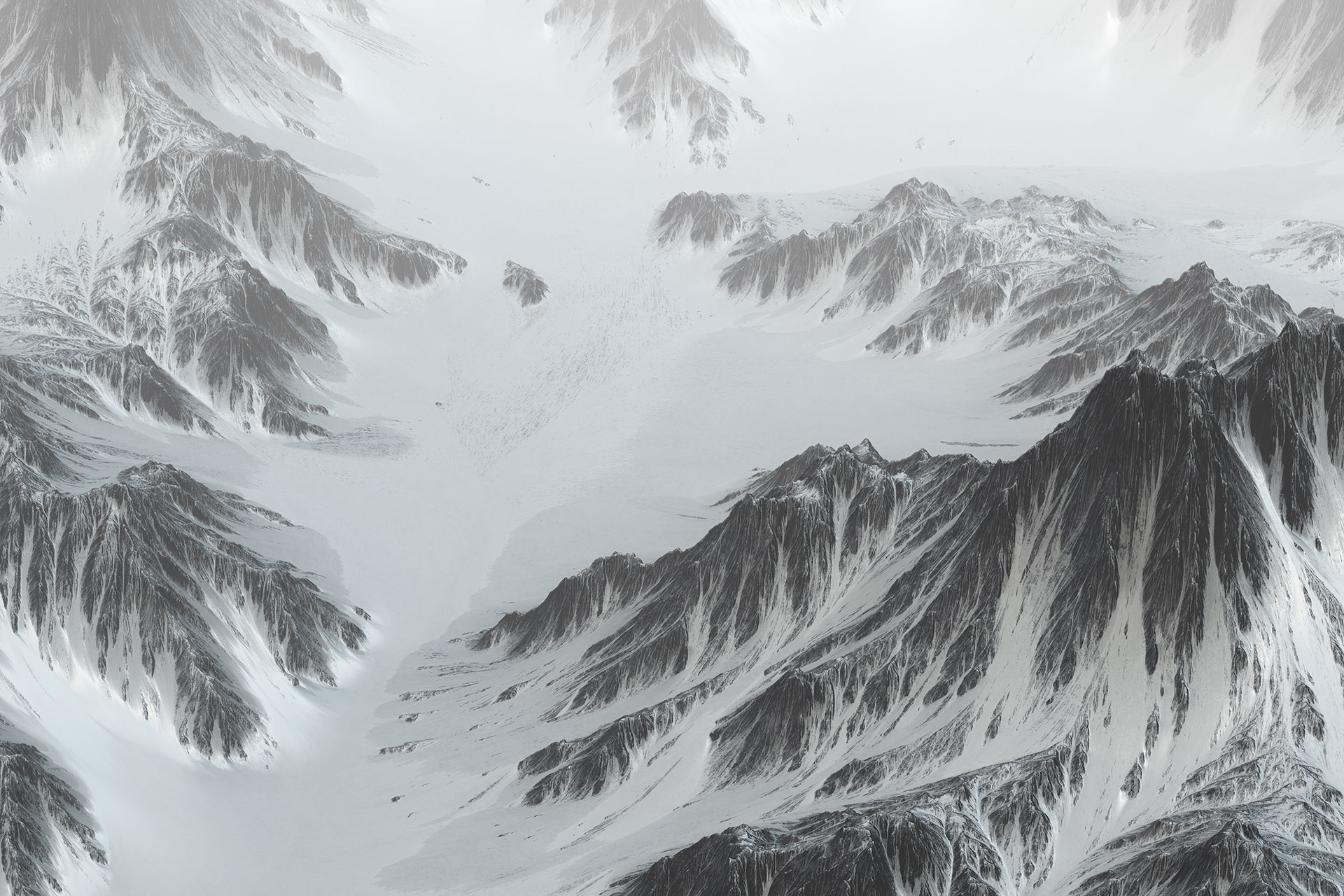 KARST II 02; Detail 03

KARST II 03; C-print 160 × 120 cm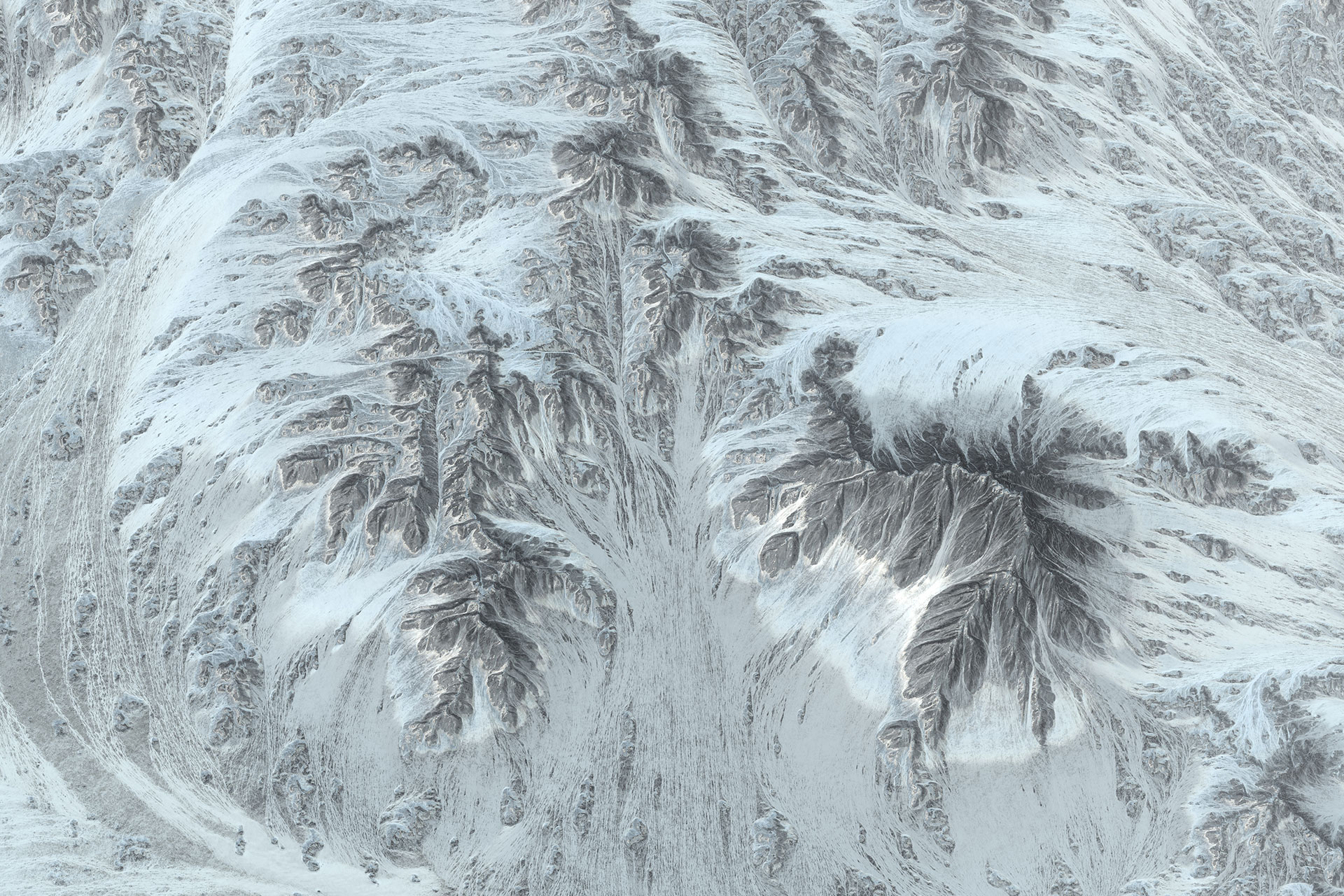 KARST II 03; Detail 01

KARST II 03; Detail 02

KARST II 03; Detail 03

V0ID VIII 01; Installation View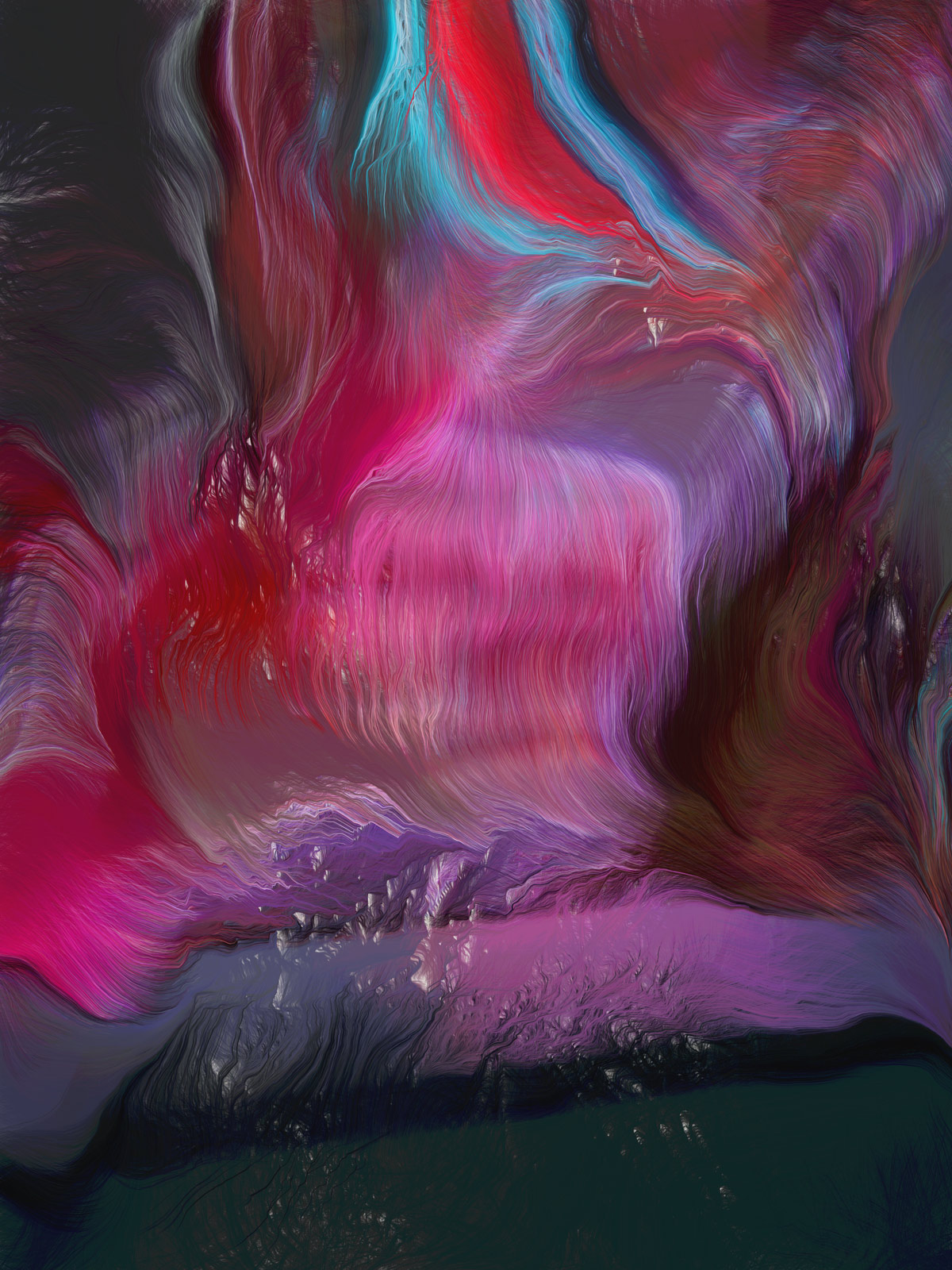 V0ID VIII 01; C-print; 160cm × 120cm

V0ID VIII 02; Installation View

V0ID VIII 02; C-print; 160cm × 120cm

V0ID VIII 03; Installation View

V0ID VIII 03; C-print; 160cm × 120cm
Single Channel Video; 4k UHD 3840 x 2160; 4:00; 30fps

Schwarm 2k14 I

Schwarm 2k14 II

Schwarm 2k14 III

V0ID IV 01 Installation View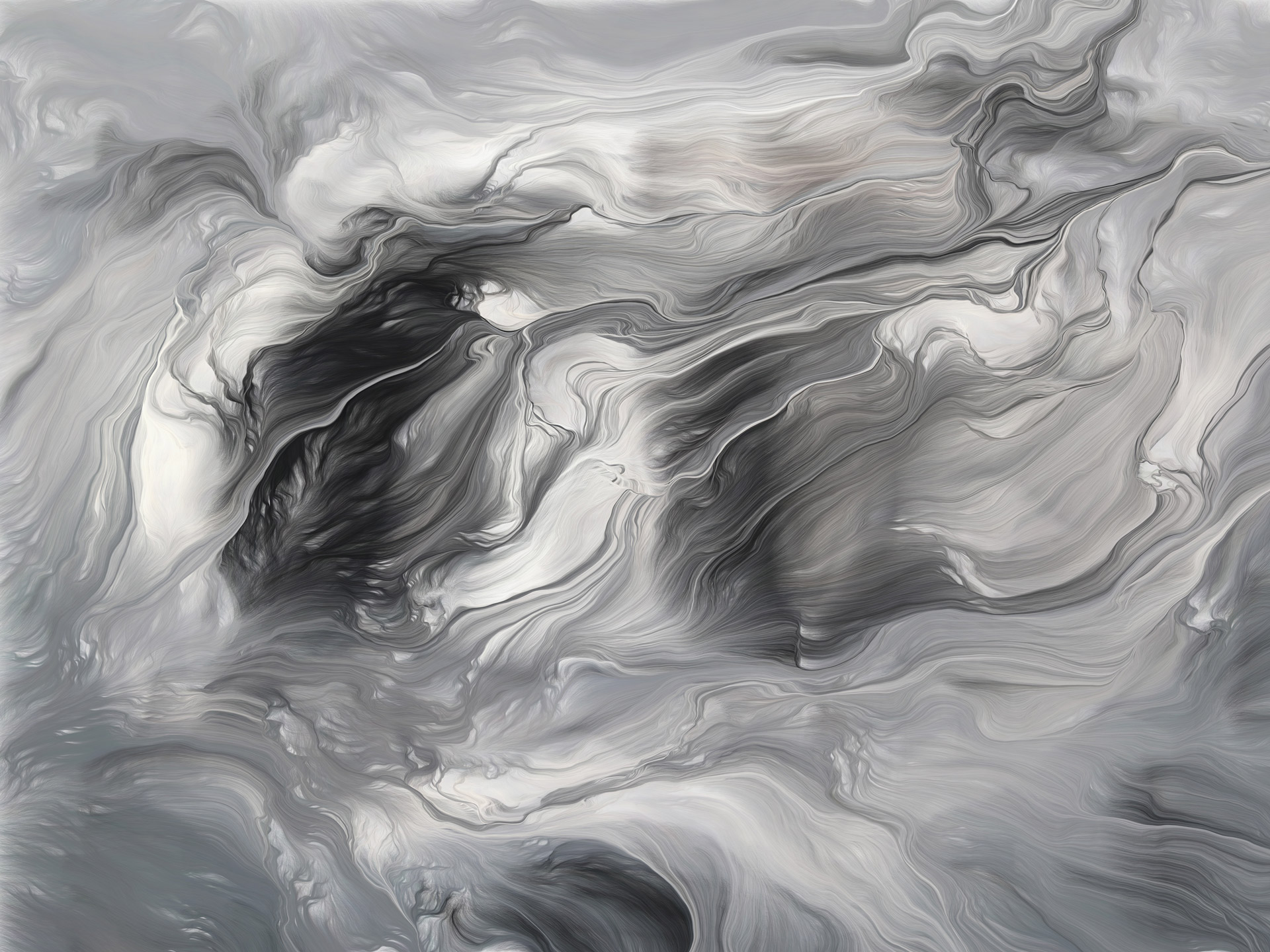 V0ID IV 01

V0ID IV 02 Installation View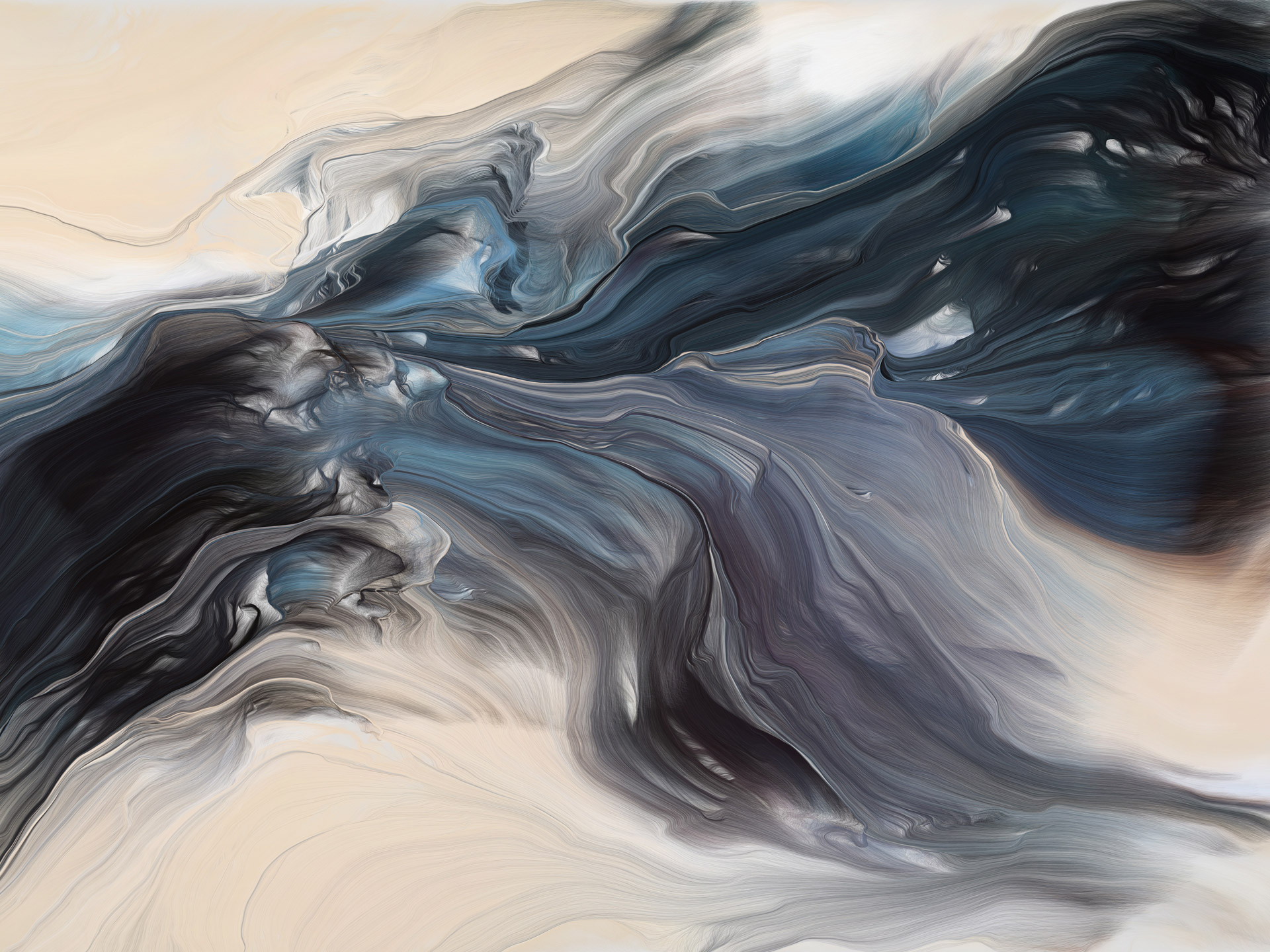 V0ID IV 02

V0ID IV 03 Installation View

V0ID IV 03

V0ID III 01


V0ID III 01

V0ID III 02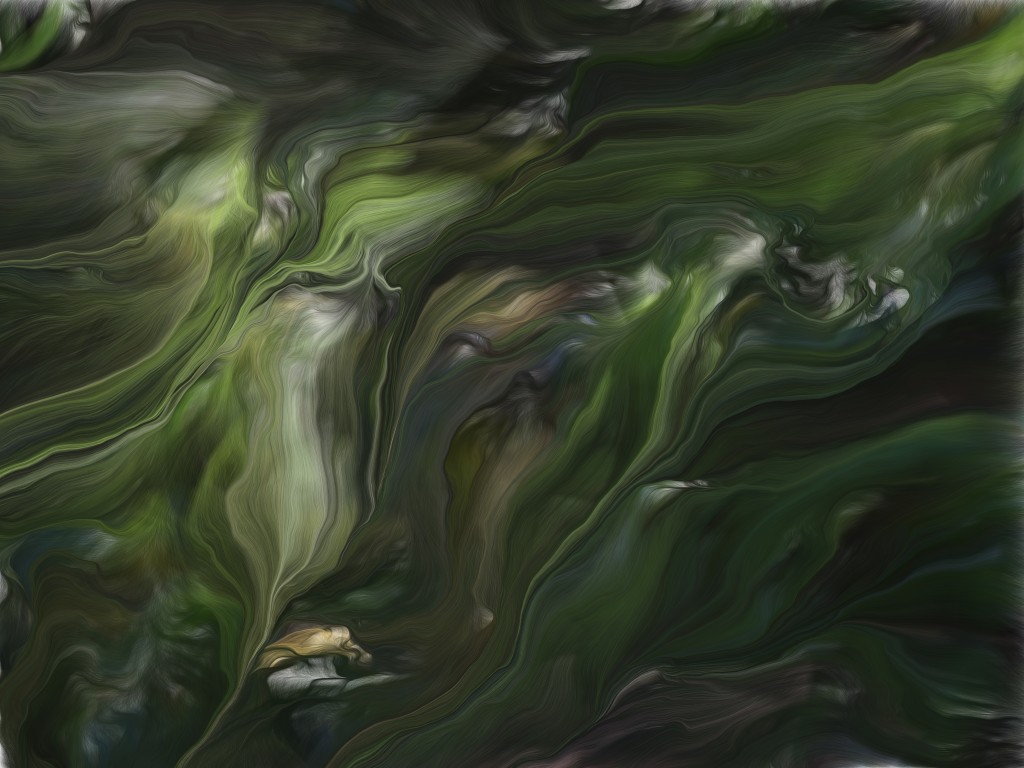 V0ID III 02

V0ID III 03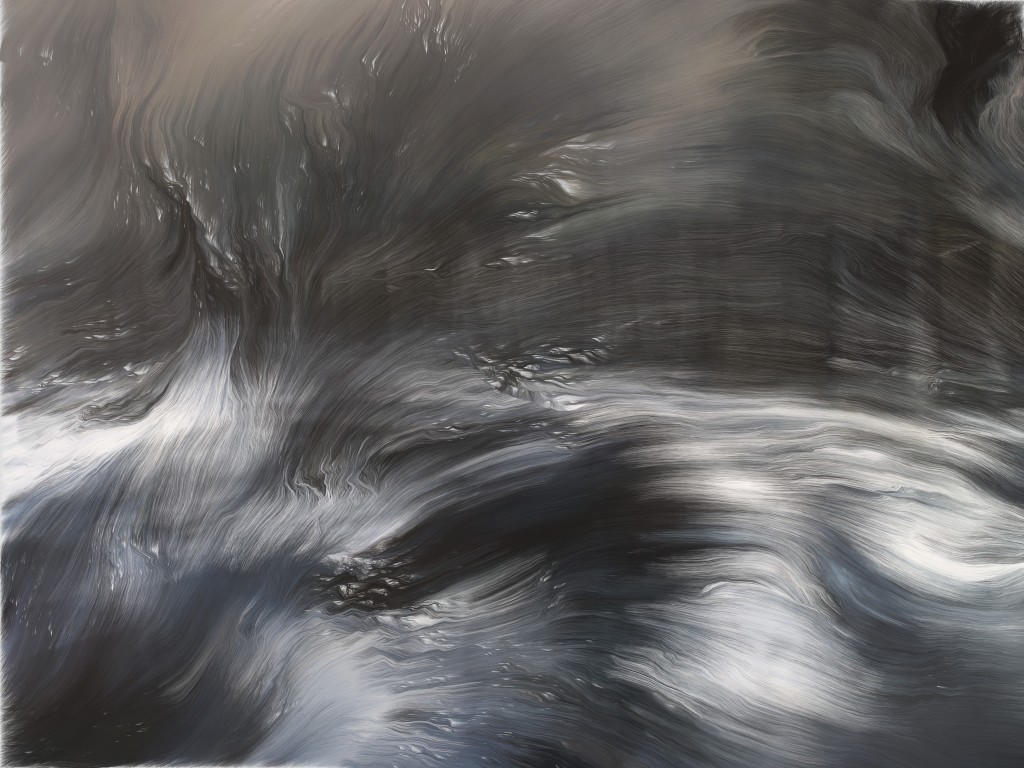 V0ID III 03

Photo by Christopher Bauder
Samsung Electronics, the global TV industry leader, is elevating its presence at IFA 2016 with a special exhibition designed by a team of emerging German artists. The installation, entitled The Origin of Quantum Dot, showcases the beauty of Samsung's SUHD TVs with Quantum dot display, while incorporating video, lighting and musical elements.
The Origin of Quantum Dot is a stained glass-inspired art installation designed by Andreas Nicolas Fischer, Schnellebuntebilder, Christopher M. Bauder and kling klang klong. The artists came together from different creative backgrounds – including sound, media art and sculpture – to build the unique work of art. The piece contains 45 SUHD TVs and 9,000 shards of stained glass.
"We designed The Origin of Quantum Dot exhibition, the largest we've ever produced, so that visitors at IFA can directly experience the visual excellence of the premium SUHD TV with Quantum dot display," said HS Kim, President of the Visual Display Business at Samsung Electronics. "We are proud to have partnered with such talented, local artists to bring this visual concept to life."

Photo by Christopher Bauder


Photo by Christopher Bauder

Second Nature is a series of video loops which show an alternate reality layered on top of our own. During a return to the Alps in the south of Munich where I grew up, I took walks in the forest, filming them from my own point of view and recording ambient sounds.
The video footage was then analyzed and a virtual camera was calculated which reconstructs my movements. Then, working around the path of the camera in space, the environment was created only to cover the field of vision.
The vegetation is an obviously ficticious one, where tropical leaves populate northern European trees. A fern's structure was misappropriated and given banana leaves. The plants and soil have a dull metallic finish. The POV perspective and gait recognizable in the camerawork shows the influence of first person shooter games, while its enemies and objectives remain absent or unknown. There is no clear narrative or purpose other than the wish to be transported to this world, creating a false memory of a place that does not exist.
Void 1448452241591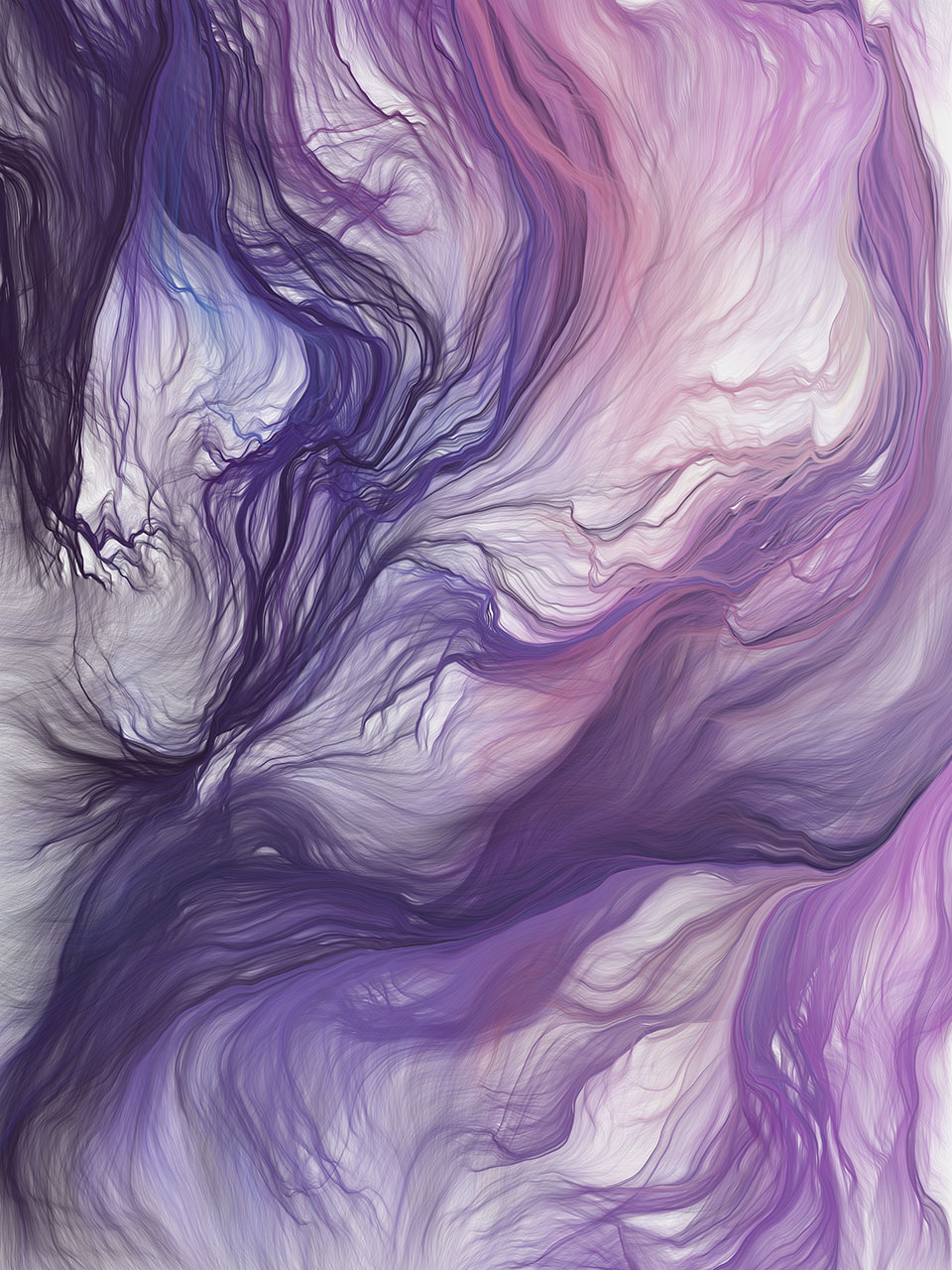 Void 1448461364556
Void 1448469432396
Credits Extension of the Schwarm Code by the multitalented Mr Pazos
Computer art is an art form in which computers play a role in the process or final product, such as display of artwork. Generative art is at the same time more specific and more encompassing than computer art. Generative art refers to art that in whole or part has been created with the use of an autonomous system. The autonomous system can be a computer, but more broadly an autonomous system is non-human and can independently determine features of an artwork that would otherwise require decisions to be made directly by an artist. In many cases, the artist, or human creator, can claim that the generative system represents their own artistic idea. There are, however, cases in which the system takes on the role of creator entirely.
What is Generative Art?
The late 1950s saw artists and designers begin to experiment with mechanical devices and analog computers. This served as a precursor to the work of the early digital pioneers who would follow in the 1960s. Interestingly enough these early digital pioneers were not artists or designers but engineers and scientists, as they had access to more powerful computing resources at university scientific research labs. A. Michael Doll, an engineer, and professor at the University of Southern California, was the first person to program a digital computer solely for artistic purposes. His later computer generated patterns simulated the visual effects of paintings by artists such as Piet Mondrian and Bridget Riley.
One of the challenges faced by early generative artists using computers was the limitation of output devices. The primary source in operation at the time was the plotter, a mechanical device that holds a pen or brush with its movements controlled by a computer. The computer guides the pen or brush across the drawing surface or alternately moves the paper underneath, according to the instructions programmed. The plotter was a linear output device, with shading only possible through crosshatching. This resulted in much of the early output of generative art focusing on geometric forms and structures as opposed to more fluid content. The pure visual form was prized above content by early practitioners as they considered the computer an autonomous machine that would enable them to carry out their visual experiments in an objective manner. Plotter drawings were typically black on white paper and as such most of the early work produced was black and white, even after printers began to be used. One of the first artists to produce plotter drawings in color was Frieder Nake.
Popular Names in Generative Art
In addition to being a pioneer of computer art Frieder Nake is also a mathematician and computer scientist. Nake was one of the first to exhibit computer art, displaying his work at Galerie Wendell Niedlich in Stuttgart. While a few of Nake's works were limited edition silkscreen prints, the majority of his work was in the medium of China ink on paper, carried out by a flatbed high precision plotter, the Zuse Graphomat Z64. Nake participated in important group exhibitions in the 1960s and 1970s and his book Ästhetik als Informationsverarbeitung (1974) was one of the first to study connections between aesthetics, computing and information theory, and has become a seminal work for the multidisciplinary area of digital media.
Another early proponent of generative art from a scientific background was Herbert Franke. Having studied subjects as diverse as physics, mathematics, chemistry, psychology and philosophy, Frank received his doctorate in theoretical physics in 1950 for a dissertation he wrote about electron optics. In this capacity, Franke experimented with computer art, and from 1973 to 1997 he lectured a course entitled Cybernetical Aesthetic at Munich University. The course was later renamed Computer Graphics – Computer Art. In 1979 Franke was a founding member of Ars Electronica, a cultural, educational, and scientific institute active in the field of new media art located in Linz.
Though the majority of early generative artists were of scientific backgrounds, this was not exclusively the case. Vera Molnar trained as a traditional artist at the Budapest College of Fine Arts. She found her style naturally gravitate to the non-representational, and she experiments with systematically determined abstract geometrical painting as early as the 1940s. After establishing the research group Art et Informatique, which investigated the relationship between art and computing in the 1960s Molnar set out to learn Fortran and Basic, two early programming languages and gained access to a computer at a research lab in Paris where she made computer graphic drawings with a plotter. Another pioneer of digital art that came from a fine art background was Manfred Mohr. Mohr, a graduate of the École des Beaux Arts, was an action painter of the abstract expressionist school who began experimenting with algorithmic art in 1969. His early computer works were based on drawings he had formerly done with a strong emphasis on rhythm and repetition.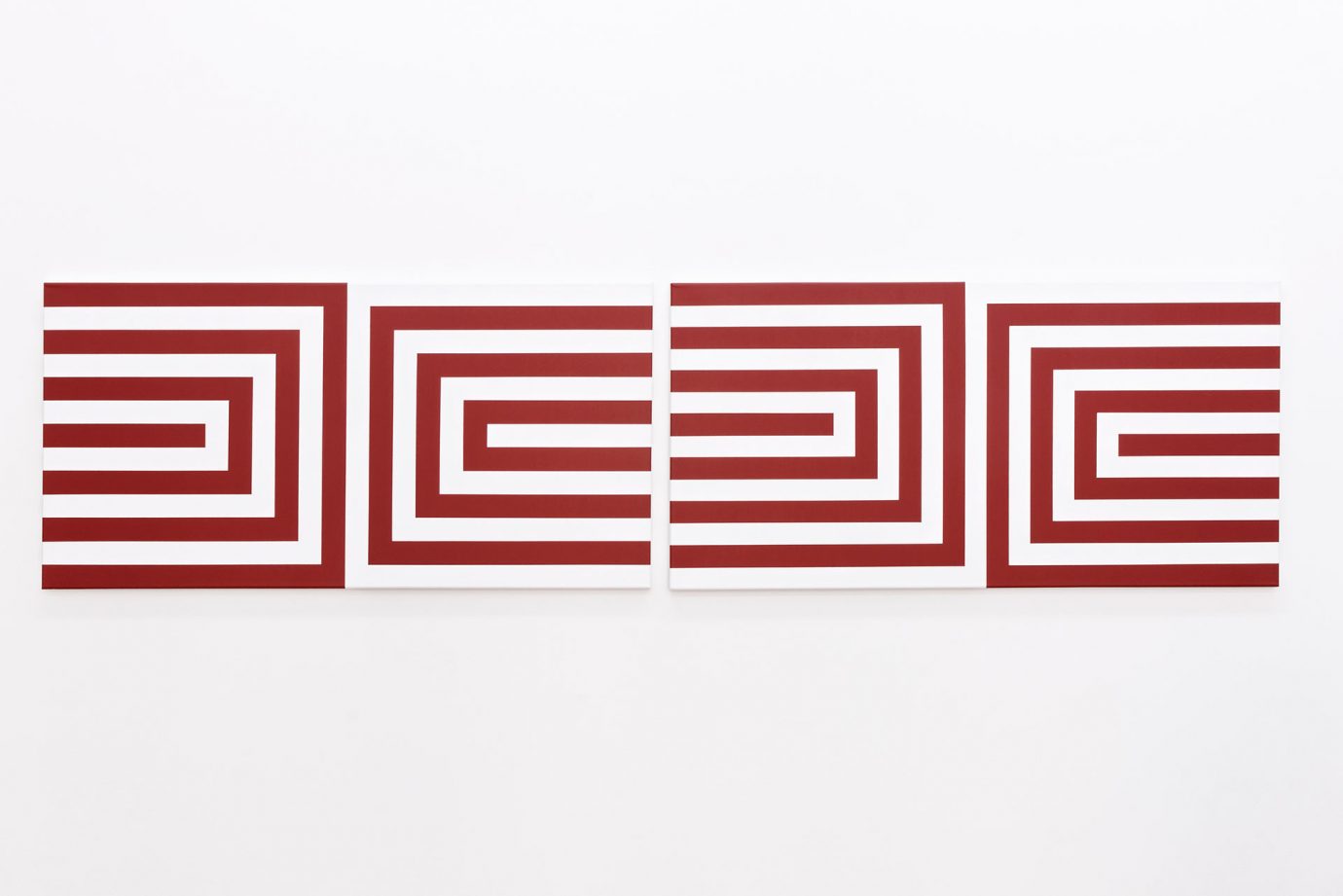 Rise of Conceptualism
Simultaneously to the rise of computer art, a more encompassing art movement was coming to the fore: conceptualism was a movement that prized ideas above formal or visual components of artworks. Rather than being a tightly cohesive movement, conceptualism was an amalgamation of various tendencies and took on many forms. From the mid-1960s through to the mid-1970s conceptual artists produced works that completely rejected standard ideas of art of the time. Their primary claim – that the articulation of an artistic idea suffices as a work of art – implied that traditional concerns such as aesthetics expression, technique, and marketability were all irrelevant standards by which to judge an artwork.
Famous Artists in Conceptualism
One artist working in the conceptual vein was Sol LeWitt. LeWitt came to fame in the mid-1960s for his wall drawings, which were essentially the end result of a preconceived set of instructions or simple diagrams for two-dimensional works drawn directly on to walls. The line drawings were purely the result of varying permutations of systems of changing combinations. The parameters of these were chosen by LeWitt himself, and many times the permutations had a systematic ordering about them.
John Cage, arguably one of the most influential musicians of the 20th century, was another artistic proponent of conceptualism. He is perhaps best know for his composition entitled 4'33'', in which musicians who present the work do nothing aside from being present for the duration specified in the title – the work takes place in the absence of deliberate noise, but not in silence. The content of the work is rather the sounds of the environment heard by the audience during the performance. Cage was a pioneer of chance controlled music. Influenced by Eastern texts on decision-making tools in the 1950s, which he employed in his work, aleatoric or chance-controlled music remained his standard composition method for the remainder of his life.
Ellsworth Kelly's contribution to conceptualism was his persistent inquiry into the dynamic relationship between shape, form, and color. He was one of the first artists to works with irregularly shaped canvases and his later work in layered reliefs and flat sculpture would further challenge accepted notions of space. Kelly's intention was for viewers to experience his work with instinctive physical responses to the works' structure, color, and surrounding space rather than with contextual or interpretive analysis. He encouraged bodily participation between the viewer and the artwork, by presenting bold, contrasting colors, free of gestural brushstrokes or recognizable imagery.
Modernization of Generative Art
It was during the 1970s that generative art began to look beyond the computer labs in which it was being practiced and out towards the greater art world. The term soon came to be used to describe geometric abstract art where simple elements were repeated, transformed or varied to generate more complex forms. In so doing the work of Sol LeWitt, John Cage and Ellsworth Kelly became, in a sense, generative art. The broadening of the definition of generative art was not only happening from inside the computer labs but from inside fine art institutions too. In 1970 the School of the Art Institute of Chicago created a department entitled Generative Systems, which focused on art practices using new technologies for the capture, inter-machine transfer, printing and transmission of images. Theorists began placing their own parameters on what generative art was. In 1988, one theorist, Henry Clauser, identified the aspect of systemic autonomy as a critical element in generative art, highlighting that process (or structuring) and change (or transformation) are among generative arts most defining features, and that these features and the actual term 'generative' imply dynamic development and motion. As ways of thinking about generative art changed, the practice of generative art changed and a new wave of artists came about bringing with them fresh ideas and new modes of expression.
Next Generation Trendsetters in Generative Art
Casey Reas is one of the new waves of artists whose conceptual, process-focused and minimal artworks explore ideas through the contemporary lens of software. The images he creates derive from short software-based instructions. These are expressed in different media including natural language, computer code, and digital simulations, resulting in both static and dynamic images. Each iteration reveals a differing perspective on the process and combines with others to produce continually evolving visual traces. Casey Reas is perhaps best to know for having founded, along with Ben Fry in 2001, the Process programming language. The process began as an open source programming language based on Java to assist the visual design and electronic arts communities to learn the basics of computer programming in a visual context. It is still widely used by artists, designers, and educators. Co-founder of Process, Ben Fry's digital art focuses more on the potential it holds for use in data visualization than as an independent fine art expression of formal quality only. He is widely considered an expert in the field of data visualization.
Marius Watz is another new wave artist who produces works within the visual abstraction category through generative software processes. His work focuses on the synthesis of form as the product of parametric behaviours in both two-dimensional and three-dimensional space. His works display hard edged geometrical forms in vivid colours, working in a diverse field of outputs, from pure software work, physical objects produced with digital fabrication technology to public projections. Watz lectures in Interaction Design at the Oslo School of Architecture and Design in addition to giving workshops and lectures on generative systems, parametric design and computational aesthetics. He is represented by DAM Gallery, an affiliate of DAM Berlin (Digital Art Museum Berlin). DAM is an online resource for the history and practice of digital fine art. It informs on historical and contemporary positions chosen by an advisory panel and exhibits the work of leading artists in this field.
A female pioneer of the new wave is LIA, an Austrian artist who has been producing works since 1995. She uses media as diverse as video, performance, installation, software, sculpture, digital projections and applications. Her primary working material is code which she uses to translate a concept into a formal written structure that can then be used to create a machine or program that generates real-time multimedia outputs. The written code element of her work require engineered precision, despite this, her concept is fluid – she treats the translation process between machine and artist as a conversation. LIA continues this conversation until she is satisfied with the machines interpretation, at which point the generative framework is considered finished and the artwork can then develop. Her works typically combine traditional drawing and painting idioms with the aesthetic of digital art, while being characteristically minimalist and conceptual.
A South American component of the new wave is Leonardo Solaas, based in Buenos Aires. His work explores complex systems through computation, interactivity and generative process for both commercial and personal projects. He has used the Process software in experiments in which he explores the subtle differences and undefined boundary territories between art and generative design, calling into use his background in philosophy. Through his work, Solaas has explored various areas of digital cultures in diverse ways such as data visualisation, interface design, net artworks, interactive installation, mobile games, social networks and collaborative creative platforms. His main focus, however lies in the exploration of algorithmic processes for semi-automated production of paintings, drawings, video and sound.
How Generative Art Found its Way to Studios
Towards the turn of the century, much of the focus of generative art practice moved away from artists working independently and towards studios and their production. It is not unlikely that studios would be focussed on the output of a single artist. Despite this, however, studios allow for a more collaborative environment within the practice of generative art, and when it comes to commercial production studios had the added advantage of giving off a more professional flair, much like design agencies, than solo or independent practitioners. One such studio is Field. Field, operating from London, aims to blend physical and digital experiences, connecting audio-visual experiences with photography, sculpture, and film in an attempt to reflect upon how the world is changing through technology. As ever more complex data systems begin to drive our lives, Field's artistic and design focus is to create new metaphors that help people, brands and institutions better understand these abstract and intangible concepts.
Generative Art Studio ANF in Berlin
Founded in 2008 in Berlin, Studio A N F operates at the intersection of art and technology. Having worked with brands as diverse as Diesel, Audi, Hugo Boss, Samsung and Mercedes-Benz, Studio A N F aims to imbue something of its own aesthetic practice into each of its commercial projects. Through its symbiosis of algorithm and human intervention, Studio A N F has completed projects in a variety of media such as graphics, animation, data visualisation, sculpture and installations in public spaces. Its founder, Andreas Nicolas Fischer is a graduate of the Berlin University of Arts where he studied under professors Ängeslevä and Sauter. Fischer has exhibited at HEK Basel, Kiasma Helsinki, Eyebeam New York, Today Art Museum Beijing, LEAP Berlin, DAM Berlin, Film Museum Vienna, Rua Red Art Centre Dublin and the Southeastern Centre for Contemporary Art in North Carolina in addition to performing alongside the Winston Salem Symphony Orchestra and contributing visuals for the Flying Lotus 2016 tour.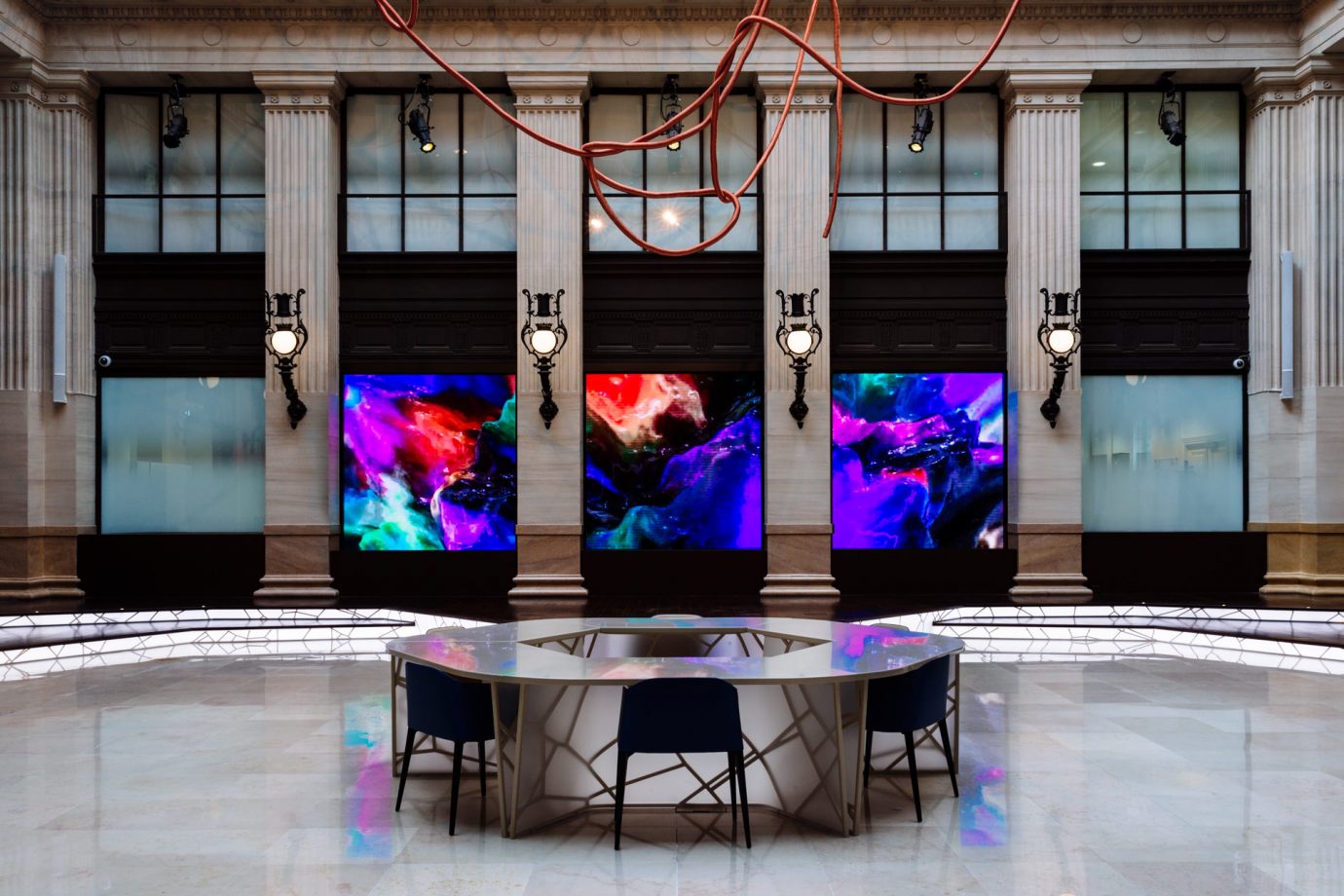 Nervous System is a generative product design studio that creates using a novel process, employing computer simulation to generate designs and digitally fabricate products based in Palenville, New York. Finding their inspiration in natural phenomena, Nervous System writes computer programs based on processes and patterns observable in nature, then uses these programs to create unique and affordable art, jewellery and houseware. Nervous System was founded in 2007 by Jessica Rosenkrantz and Jesse Louis-Rosenberg. Rosenkrantz, an artist, designer, and programmer, graduated from MIT in 2005 with degrees in architecture and biology after which she pursued graduate studies in architecture at the Harvard Graduate School of Design. Following this she founded Nervous System and now also lectures design at MIT. Jesse Louis-Rosenberg is an artist and computer programmer, interested in how simulation techniques can be used in design and in the creation of new kinds of fabrication machines. Jesse studied mathematics at MIT, having previously worked in building modelling and design automation at Gehry Technologies. Through their unique backgrounds Jessica and Jesse have grown Nervous System into what it is today, as it now releases online design applications that enables customers to co-create products in an attempt to make design more accessible. This further allows for endless design variation and customisation. Nervous System has exhibited its work in the Museum of Modern Art, the Cooper- Hewitt Smithsonian Design Museum, and the Museum of Fine Arts in Boston.
Waltz Binaire is another Berlin based studio that designs synthetic realities and moments of engagements in immersive audio-visual experiences, interactive media performances, and digital narratives. Their aim is to translate data into meaningful artworks and convert algorithms into creative patterns by applying generative design and artificial intelligence to their creative process. Their output spans media as diverse as the moving image, mobile platforms, theatres, and unusual stages. Waltz Binaire aims to envision, design and implement new artistic perspectives towards human identity and innovative technology. Waltz Binaire was founded by Christian Mio Loclair, a computer scientist and choreographer.
Refik Anadol Studio is the creative studio of Turkish artist Refik Anadol located in Los Angeles, California. Anadol works in the field of site-specific public art, creating parametric data sculptures, live audiovisual performances, and immersive installation pieces. His works explore the space between digital and physical entities by creating a hybrid relationship between architecture and media arts with machine intelligence. Anadol holds a master's degree in fine art from the University of California specialising in media arts and has won many awards in his field. By embedding media arts into architecture, Anadol questions the possibility of a post digital architectural future in which there are no non-digital realities. Through his work, he thus suggests that all spaces and facades have the potential to be utilised as the media artist's canvas. Anadol seeks to explore the new challenges that ubiquitous computing imposes on architects, media artists, and engineers such as how our experience of space is changing now that digital objects, ranging from smart phones to urban screens, have colonised our everyday lives, how media technologies have changed our perception of space, and how architecture has embraced these shifting perceptions.
Generative Art – The Next Gen Art
As we see this questioning of the place of generative and computer art in the future due its immersive nature in contemporary society, it is a good time to look to the past, to the roots of generative art. Starting with a handful of scientists in the 1950s, then being taken over by those operating in creative fields, until a harmony is put forth in which science, art, and design can all coexist within the field of generative art at the beginning of the 21st century, as it gains more traction within popular culture. Generative art is certainly set to make further leaps and bounds in its field while spilling over into others as it helps us better understand the world around us.
Text by Kayleen Wrigley


Generative 360° realtime audiovisual installation & WebGL interweb experience
The fine people from Postmatter London approached A N F in the spring of 2k14 to create a bespoke installation for Diesel, purveyors of lustrous Italian denim, timed for the freshly opened flagship store at Piazzi di Spagna in Rome. Luckily, the talented Mr Pazos, who had collaborated with me on the SuperRatings project came on board early on developing the concept and 3d framework in Processing. More good fortune was upon the project, because composer & musical mastermind Nikolai von Sallwitz was available to do the generative score for the piece.
The final installation software was then ported to 3js for the online version.
The official Press release:
On the occasion of its latest flagship store opening in Rome, Diesel has paid homage to the city with an unprecedented art experience, an exclusive screen-based artwork created in partnership with POSTmatter magazine. Drawing together a creative and forward-looking vision, this collaboration showcases exciting possibilities in digital art.
The choice of the Berlin based artist Andreas Nicolas Fischer made possible to bring to life an abstract digital organism, housing it in an enclosed atrium that will serve as the gateway into the store. With all walls completely tiled with screens, and a mirrored ceiling, the space will envelop its audience and involve them to "feed" the interactive art piece. Based upon localised data sources drawn directly from Rome, the flux and evolution of the city will be brought into the space through Fischer's striking, animated visuals.
Rome and its powerful role in shaping art history as we know it are central to the new commission. Diesel store is located in the heart of the city – next to the Spanish Steps, and this installation unites the surrounding landscape and its equivalent digital space into a pulsating heart of information.
The digital organism will be first drawn from topographical data, taken from maps of Rome. Its growth and movements will be based upon the use of #rome and #roma online. Evolving into new visual outcomes, the city's data will create a starting point from which Fischer's beautiful, impressionistic forms can grow. Expanding upon the immersive and responsive nature of the in-store installation, the shape-shifting organism will also be accessible for participants around the world through social networks. Each time the hashtag '#POSTroma' is used on Twitter, a unique response will be tweeted back to each individual user. A specially programmed algorithm created by Fischer will generate a haiku poem and a striking screenshot of the in-store visual mutation at that moment, both of which will be delivered directly to the Twitter account of the original user. Diesel has been consistently promoting and supporting creativity in all its forms, with a special focus on independent artists that capture their drive towards a bold future. Leading the way, the POSTroma project is at the forefront of a new age of boundary crossing creative participation.
Producer PostMatter Lana Elie of PostMatter
Art Direction Yann Binet with PostMatter
Creative Code Abraham Pazos Solatie
Video Documentation Pietro Daviddi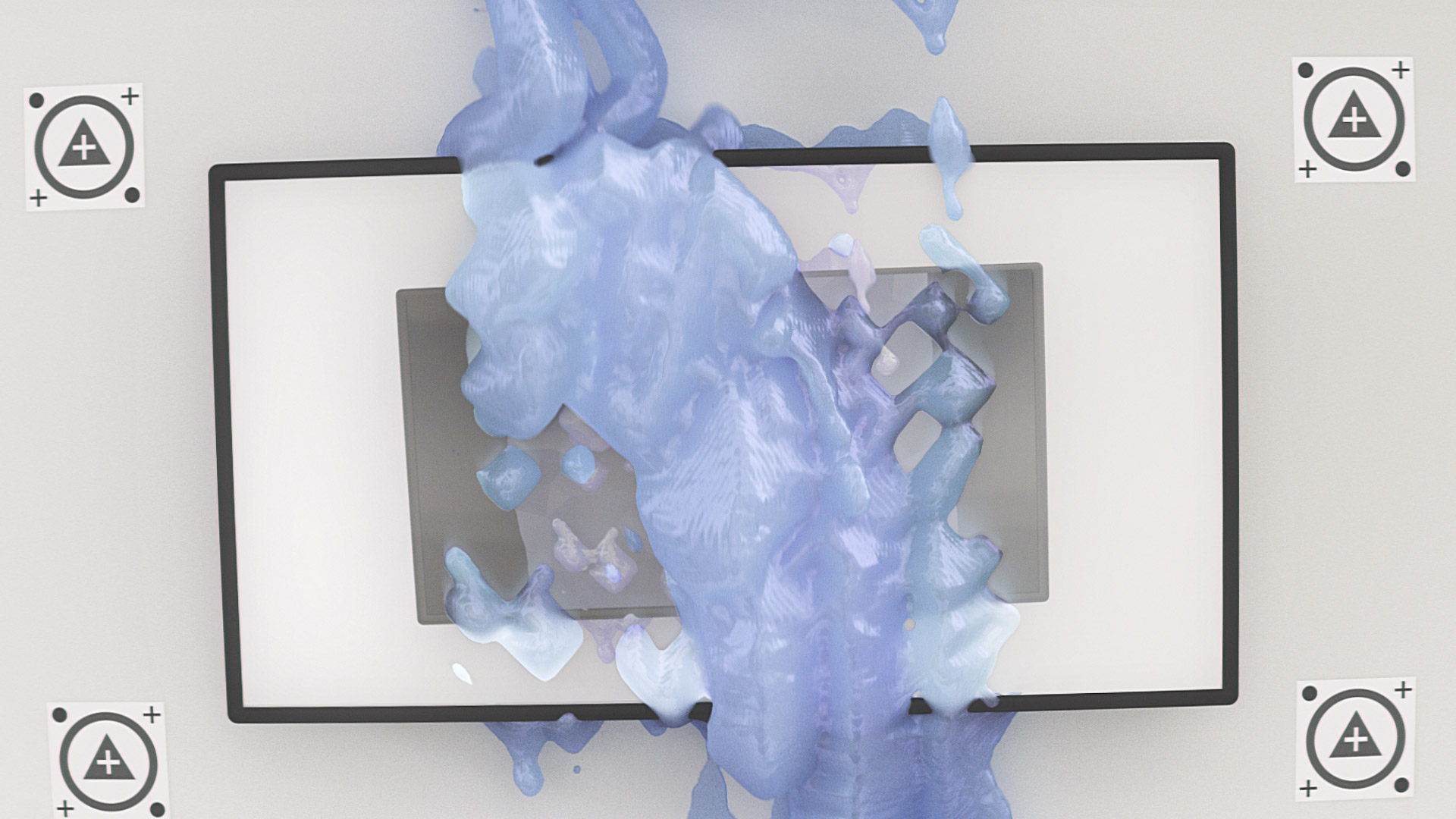 Chris Woebken, Sascha Pohflepp and Andreas Nicolas Fischer will spend their time on Governors Island commissioning a series of computer simulations that will run within a meticulous virtual recreation of Building 15. The individual simulations are being created by a selection of 3D artists who form part of a community that is exploring the aesthetics of simulation in the context of contemporary computer graphics, often disseminating their work on social media rather than in an academic context. These participating artists include: Kai Kostack, Mohamad Zeina, Gottfried Hofmann, Tayfun Ozdemir and Andreas Nicolas Fischer.

Island Physics – Exhibition Walkthrough
Island Physics will turn Eyebeam's house on Governors Island into a testing-ground for alternate realities, simulating the impossible in a living room.

So Meta "B" from A N F

Apple Fall by Kai Kostack

Floating Fluid Particles by Blazraidr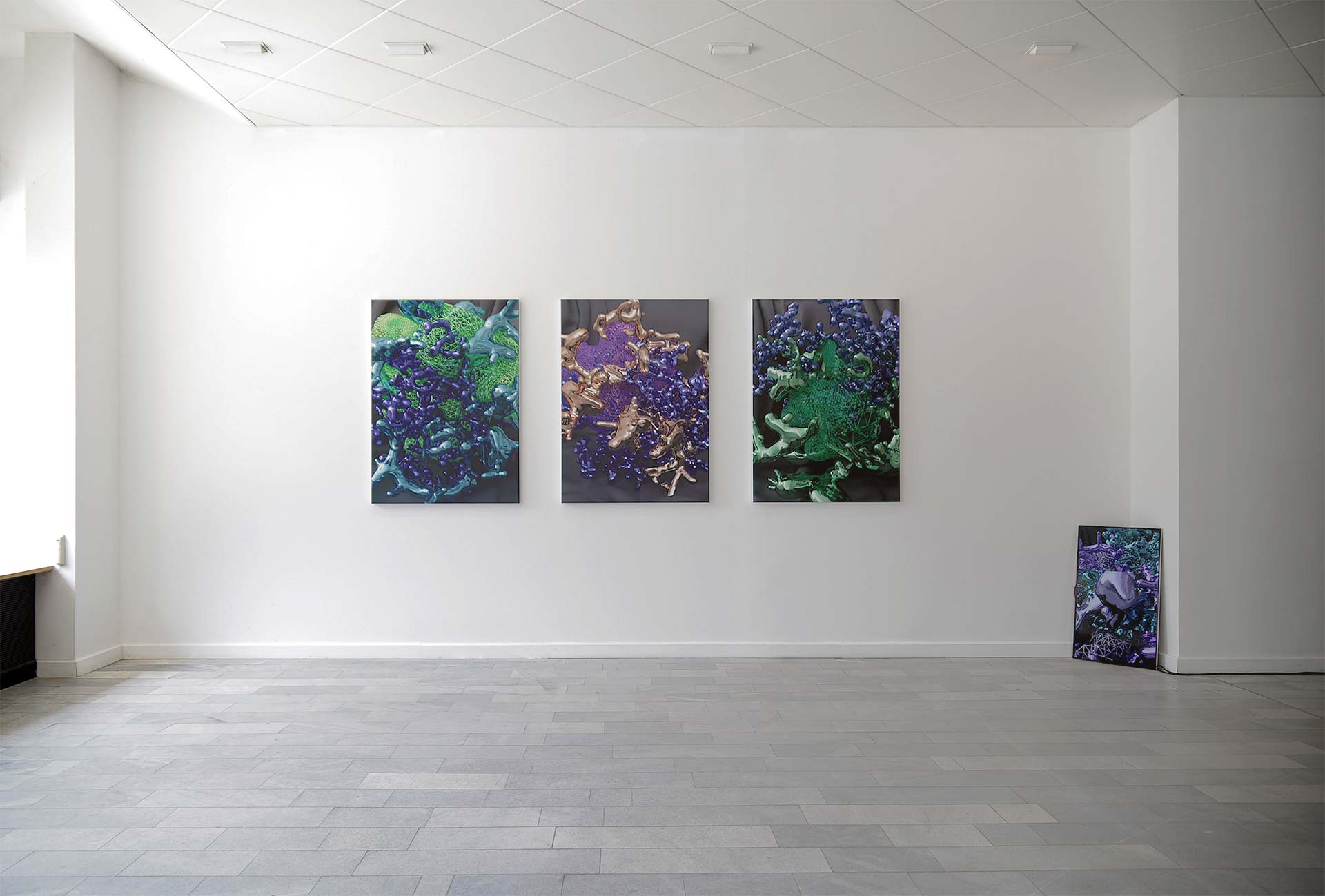 Installation View at Synthetisch Vernünftig at the LEAP Berlin curated by John McKiernan and Daniel Franke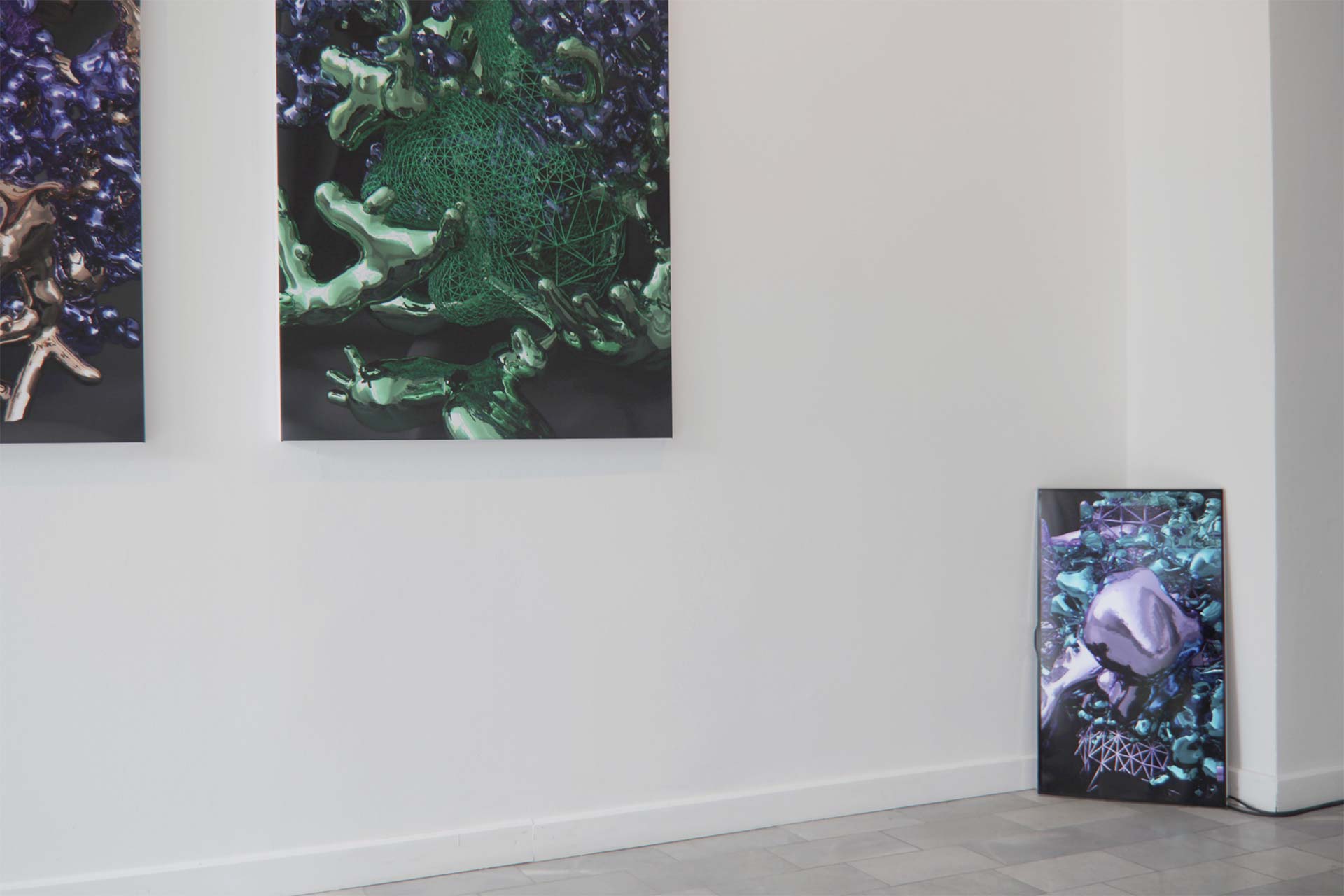 Brute Force Method V – A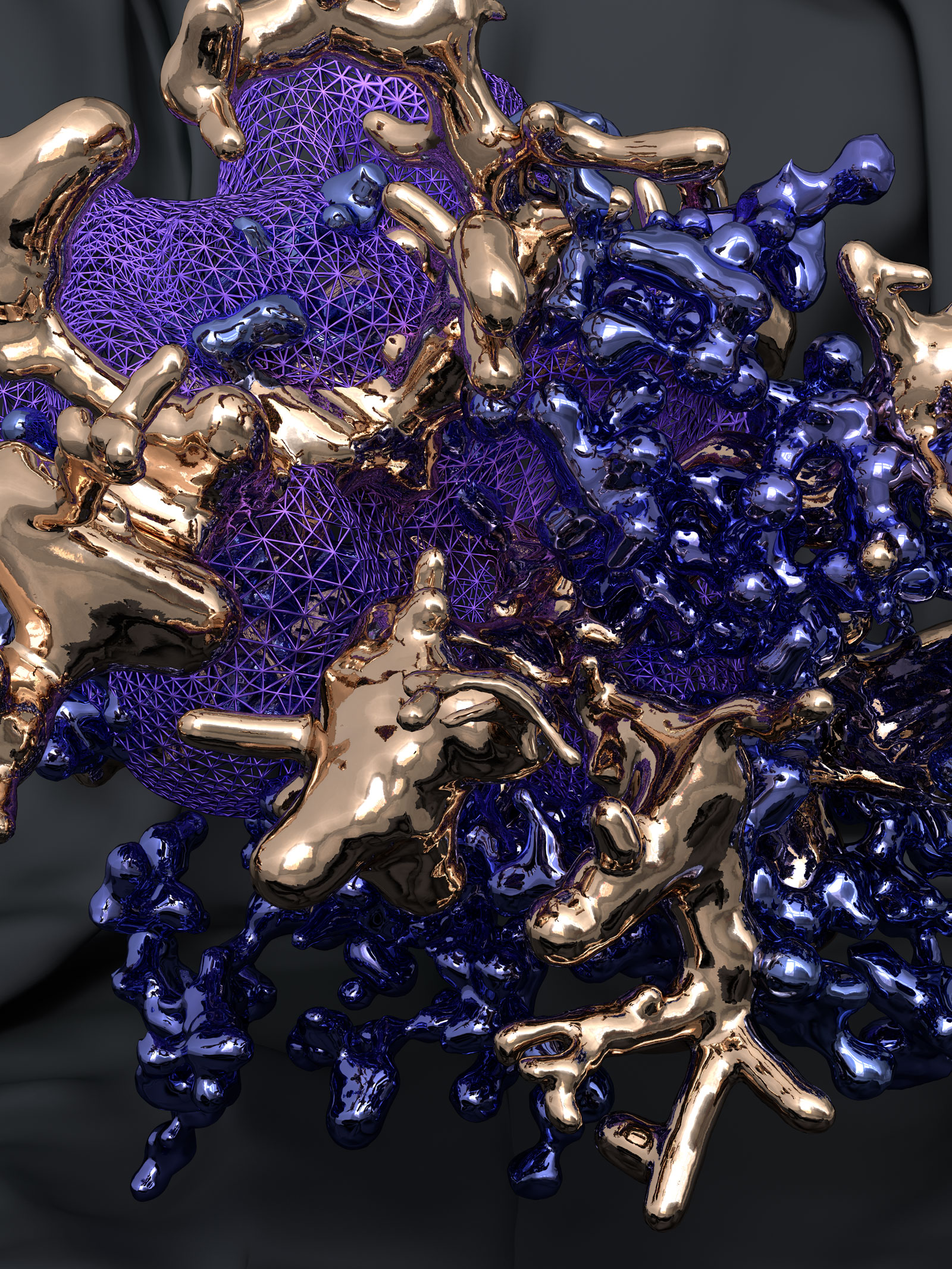 Brute Force Method V – B
Brute Force Method V – C
Brute Force Method V – A – Detail 01
Brute Force Method V – A – Detail 02
Brute Force Method V – A – Detail 03
Brute Force Method V – A – Detail 04
Music Video Axis for Egyptrixx
Toronto's Egyptrixx (David Psutka) returns to Night Slugs with his immersive second album "A/B til Infinity" Since his 2011 debut LP "Bible Eyes", Psutka has been busy with various studio production projects as well as recording and touring with his side-project Hiawatha. His return as Egyptrixx takes the form of a multi-media collaboration with Berlin-based visual artist A N F – Andreas Nicolas Fischer.
The project consists of the album, the video for Ax//s and an Audio/Visual live set for the Egyptrixx world tour 2014.

Album artwork A/B til infinity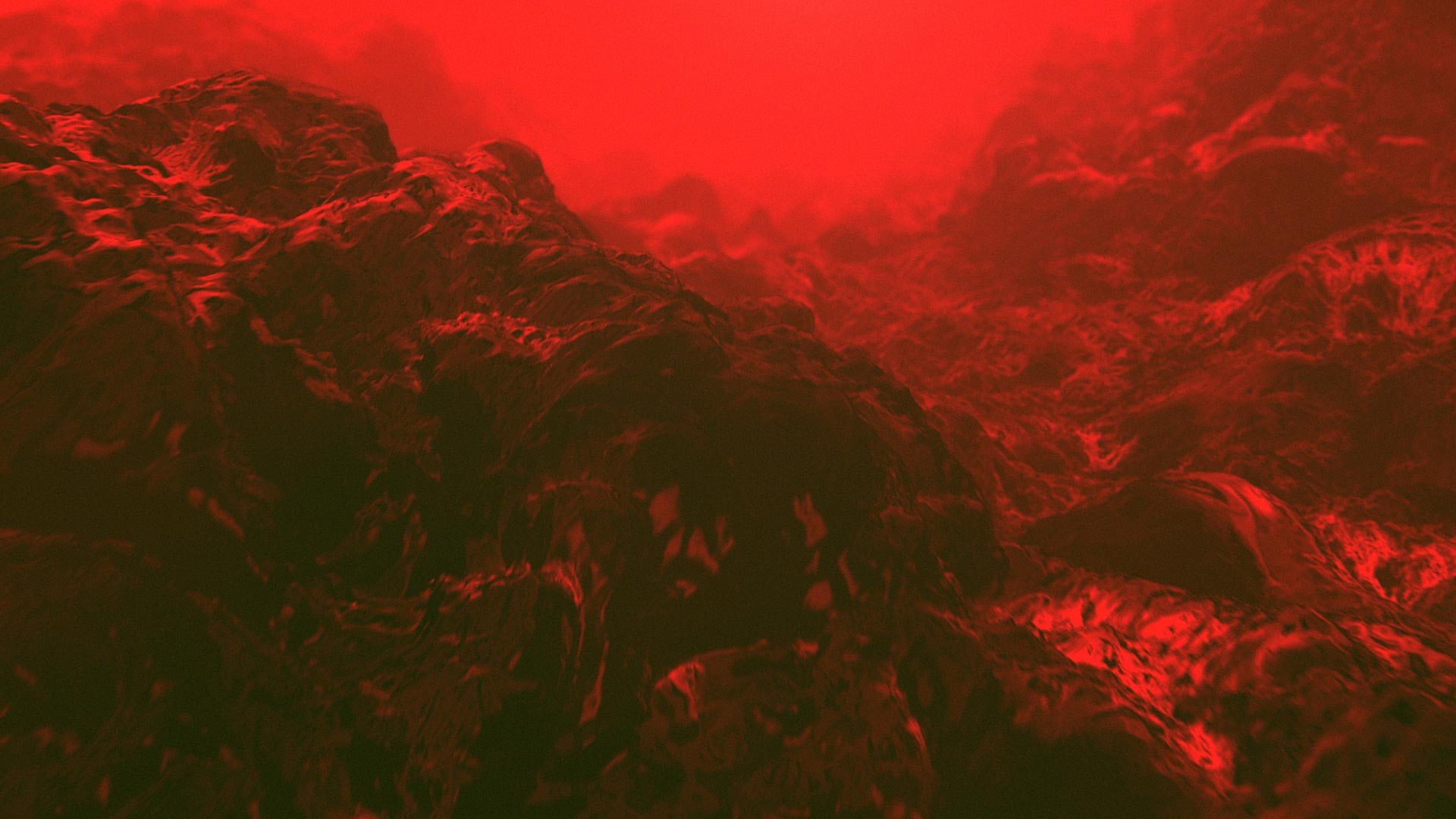 Live A/V Set for the A/B til Infinity World Tour 2013 / 2014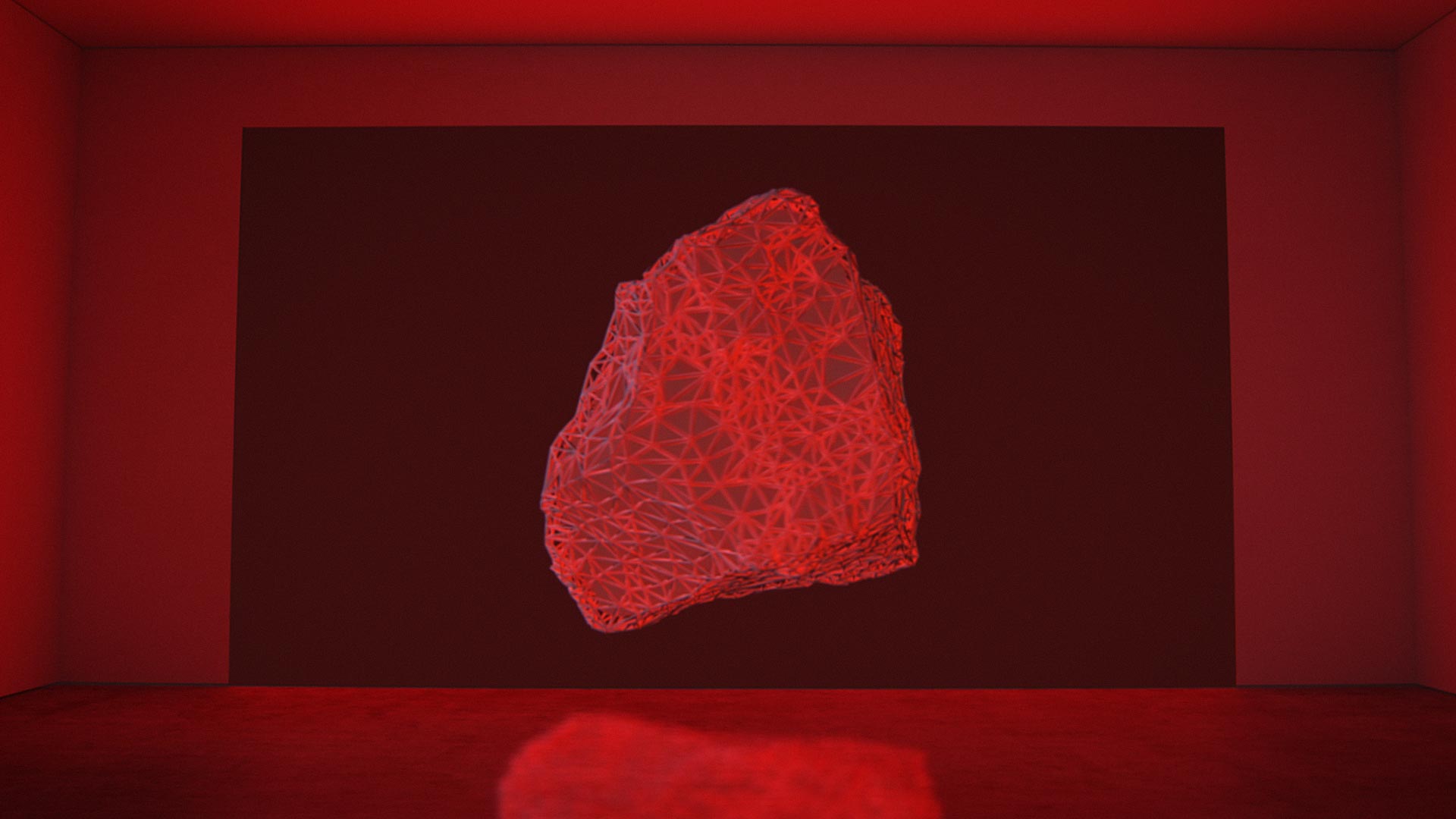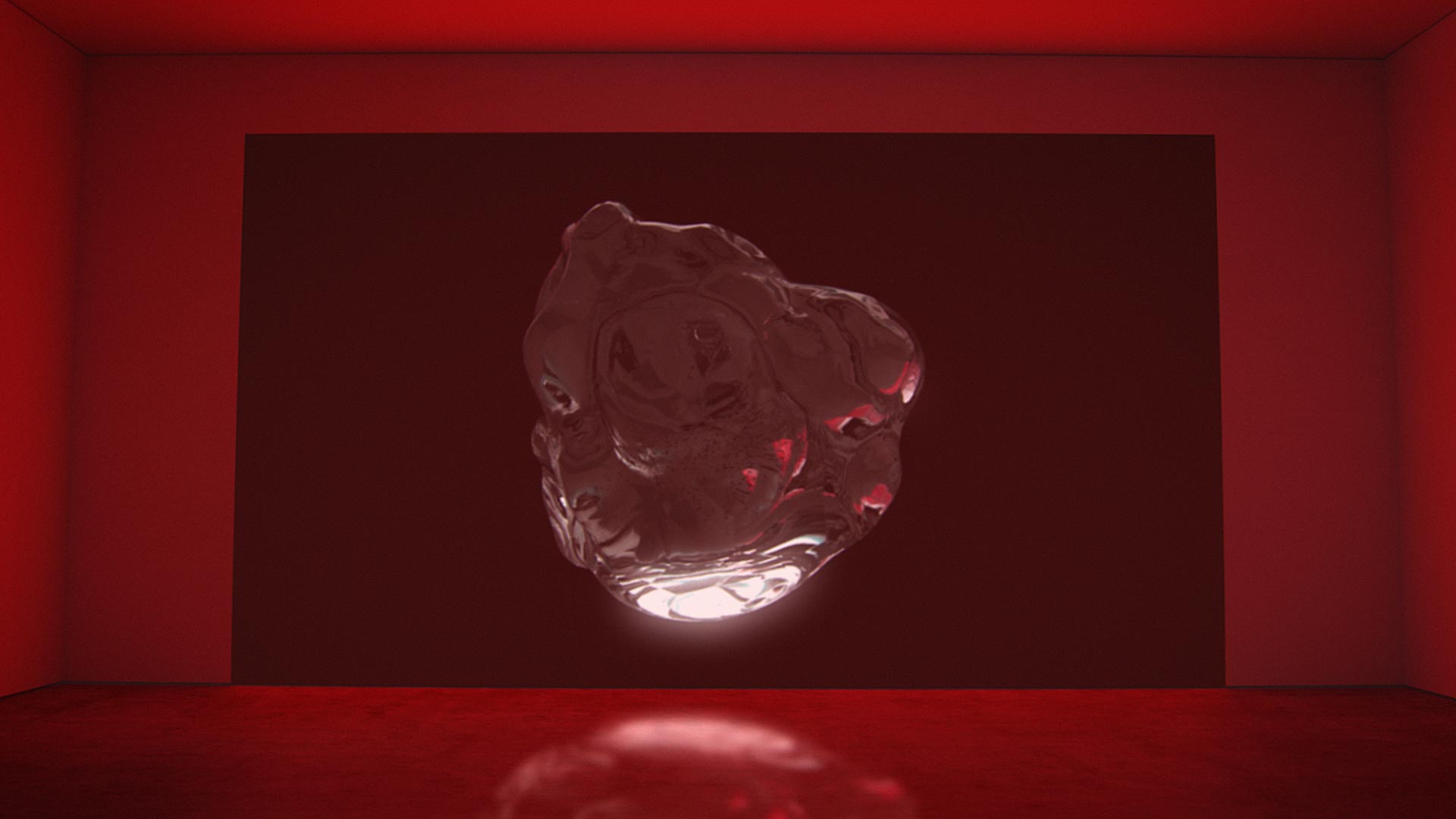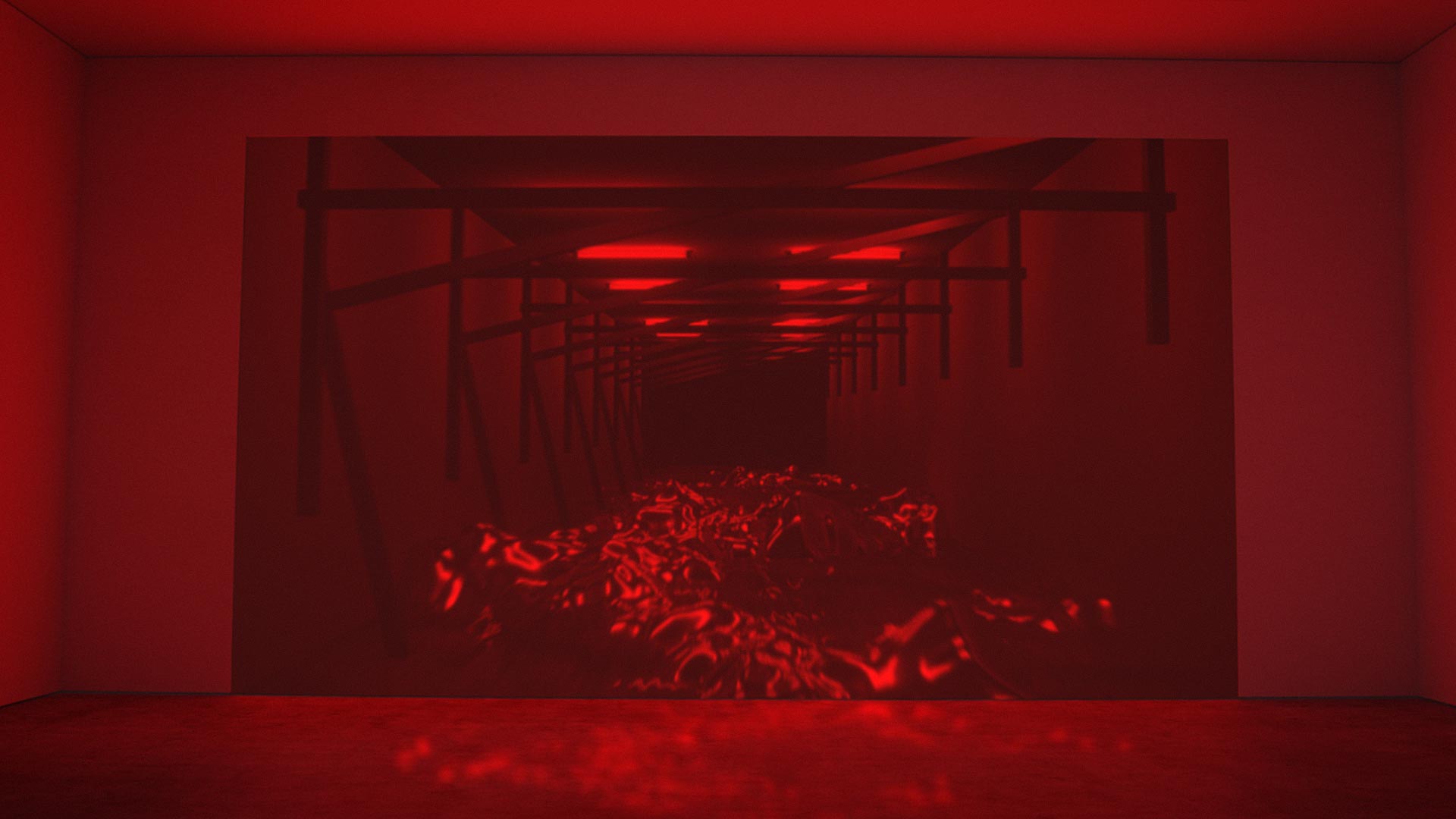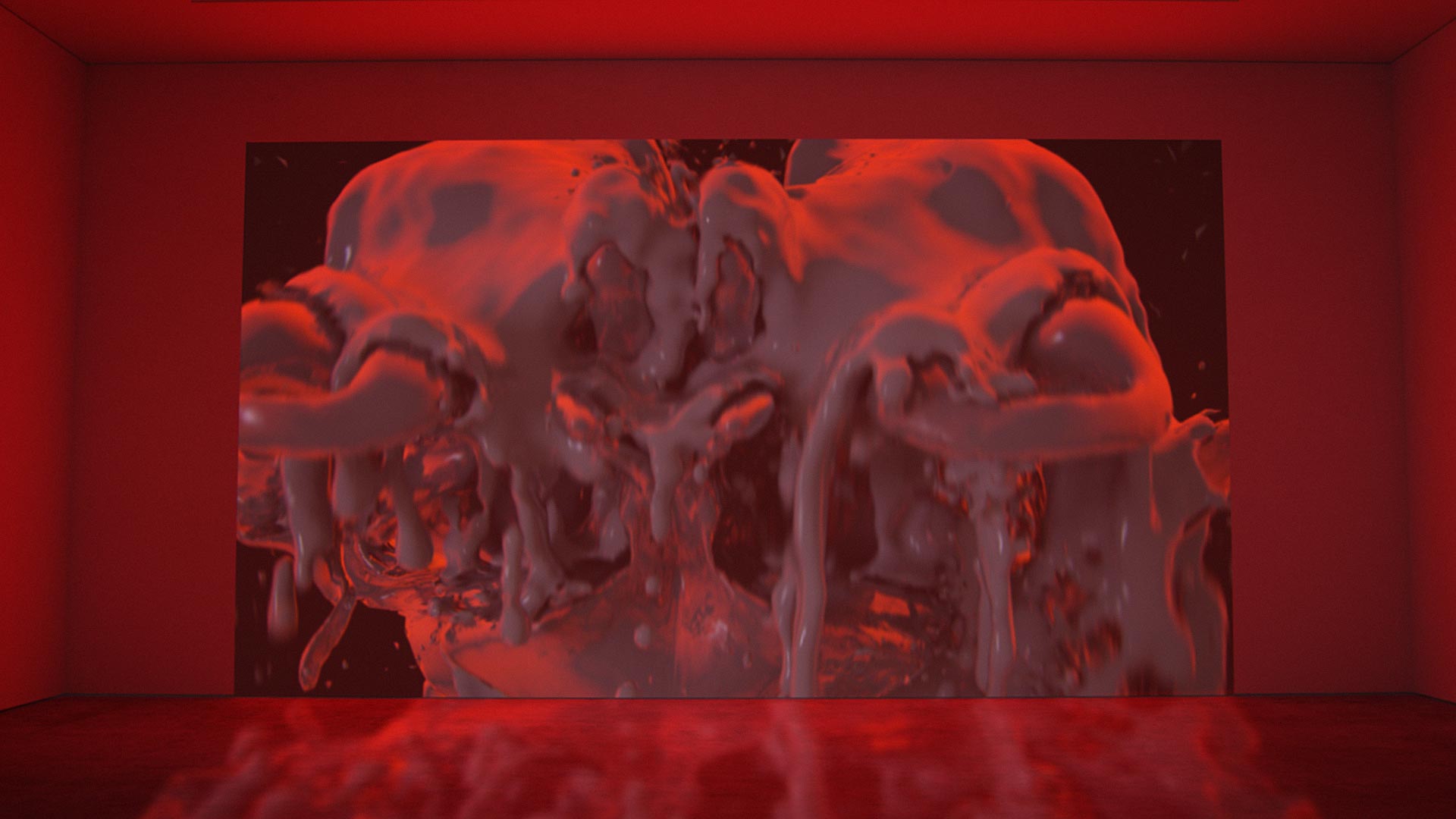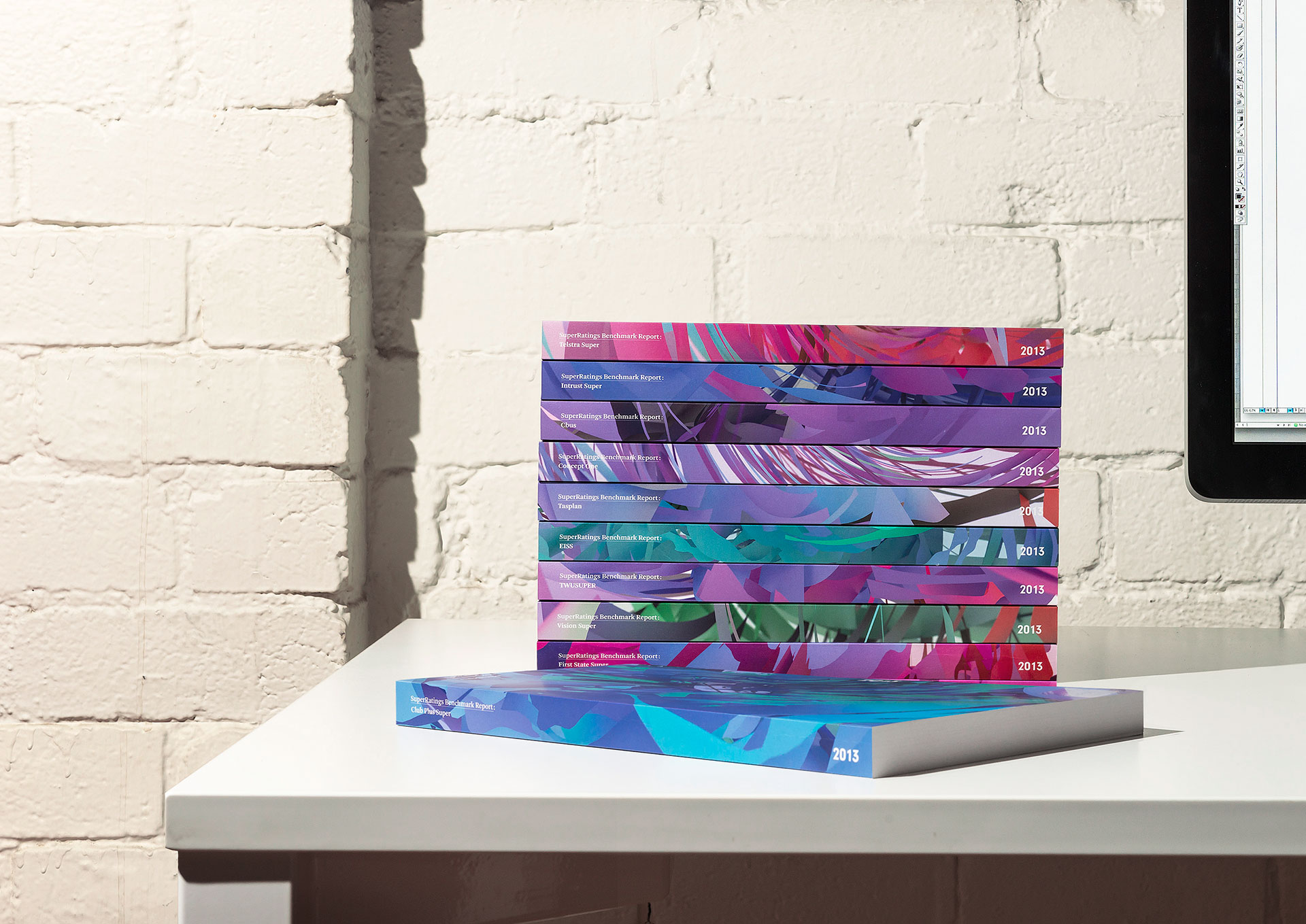 Generative designs commissioned by Argonaut Studio + Associates for SuperRatings
Creative Direction Future Days
Art Direction Andreas Nicolas Fischer
Creative Code Abraham Pazos Solatie
SUP #01
SUP #04
SUP #08
SUP #14
SUP #16
SUP #21
SUP #23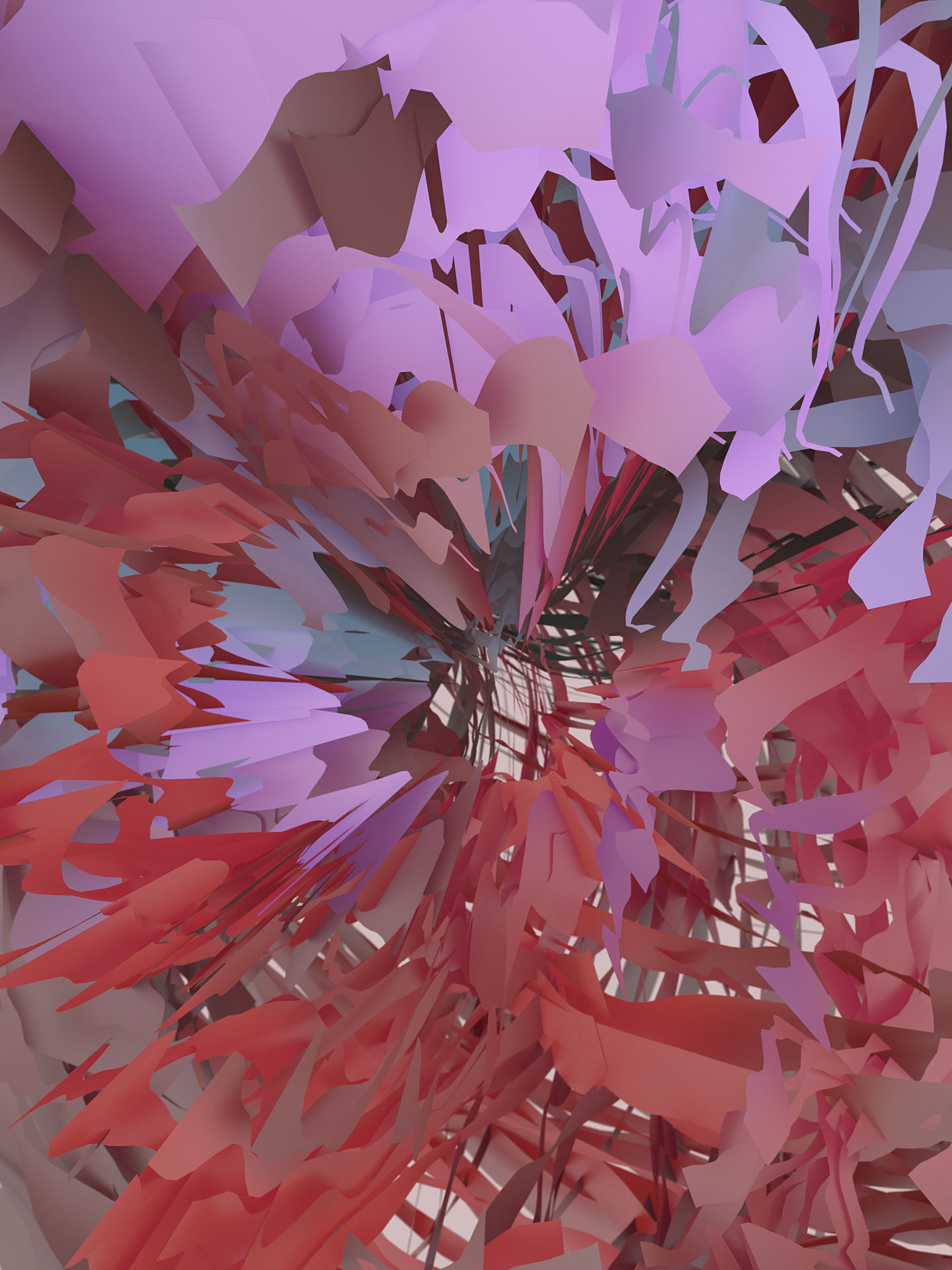 SUP #32
SUP #34
Single Channel video loop; 00:02:40